Headlight aiming adjustment
Before performing aiming adjustment, make sure of the following.
1. Keep all tires inflated to the correct pressure.
2. Place the vehicle on level ground and press the front bumper & rear bumper down several times.
Place vehicle at a distance of 118 in. (3m) from the test wall.
3. See that the vehicle is unloaded (except for full levels of coolant, engine oil and fuel, and spare tire, jack, and tools). Have the driver or equivalent weight placed in driver's seat.
4. Clean the head light lenses and turn on the headlights (Low beam).
5. Open the hood.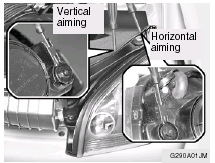 6. Draw a vertical line (through the center of each headlight beam pattern) and a horizontal line (through the center of each headlight beam pattern) on the aiming screen.
And then, draw a parallel line at 0.8 in. (21 mm) under the horizontal line.
7. Adjust each cut-off line of the low beam to the parallel line with a phillips screwdriver - VERTICAL AIMING.
WARNING:
Never attempt to adjust the horizontal alignment of your headlights. Horizontal aiming must be adjusted by an authorized Hyundai dealer to avoid incorrect alignment that will reduce the effectiveness of your headlights.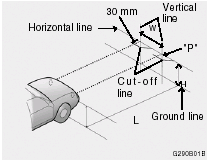 Adjustment After Headlight Assembly Replacement
If the vehicle has had front body repair and the headlight assembly has been replaced, the headlight aiming should be checked using an aiming chart as shown in the illustration. Turn on the headlight switch. (Low Beam Position)
1. Adjust headlights so that main axis of light is parallel to center line of the body and is aligned with point "P" shown in the illustration.
2. Dotted lines in the illustration show the center of headlights.
SPECIFICATION:
"H";
Horizontal center line of headlights from ground: 35.6 in.(904 mm).
"W";
Distance between each headlight center: 53.4 in.(1,356 mm).
"L";
Distance between the headlights and the wall that the lights are tested against: 118 in. (3,000 mm).
See also:
Re-install Wheel Nuts
To reinstall the wheel cover, hold it on the studs, put the wheel nuts on the studs and tighten them finger tight. The nuts should be installed with their small diameter ends directed inward. Ji ...
Sonata 2.0T in the Market
Base, four-cylinder midsize sedans make up the bulk of sedan sales for all automakers today, as buyers are shopping on value more than performance in this segment. Hyundai has already found succes ...
Checking tire inflation pressure
Check your tires once a month or more. Also, check the tire pressure of the spare tire. How to check Use a good quality gage to check tire pressure.You can not tell if your tires are properly inf ...