Checking the brakes
CAUTION:
Because brakes are essential to the safe operation of the car, it is suggested that they be checked and inspected by your Hyundai dealer. The brakes should be checked and inspected for wear at those intervals specified in the vehicle maintenance schedule.
Checking the Brake Fluid Level
WARNING:
Use caution when handling brake fluid. It can damage your vision if it gets into your eyes. It will also damage your vehicle's paint if spilled on it and not removed immediately.
Recommended Brake Fluid
Use only hydraulic brake fluid conforming to DOT 3 or DOT 4 specifications in your braking system. Follow the instructions printed on the container.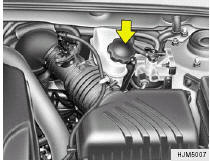 To Check the Fluid Level
The fluid level in the brake fluid reservoir should be checked periodically. The level should be between the "MIN" and "MAX" marks on the side of the reservoir. If the level is at or below the "MIN" mark, carefully add fluid to bring it up to "MAX". Do not overfill.
Adding Brake Fluid
WARNING:
Handle brake fluid carefully. It can damage your vision if it gets into your eyes. Use only DOT 3 or DOT 4 specification fluid from a sealed container. Do not allow the fluid can or reservoir to remain open any longer than required. This will prevent entry of dirt and moisture which can damage the brake system and cause improper operation.
To add brake fluid, first wipe away any dirt then unscrew the fluid reservoir cap. Slowly pour the recommended fluid into the reservoir. Do not overfill. Carefully replace the cap on the reservoir and tighten.
See also:
Manual climate control system
To defog inside windshield 1. Select any fan speed except "0" position. 2. Select desired temperature. 3. Select the or position. 4. The outside (fresh) air will be selected automatically. I ...
Vehicle setting
When the vehicle is at a standstill, pressing the TRIP button for more than 2 seconds with the engine start/stop button in the ON position or engine running, the LCD screen on the cluster will c ...
Owner maintenance precautions
Improper or incomplete service may result in problems. This section gives instructions only for the maintenance items that are easy to perform. As explained earlier in this section, several proced ...