Windshield wiper blades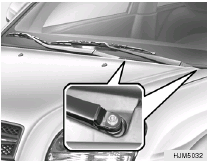 The wiper blades should be carefully inspected from time to time and cleaned to remove accumulations of road film or other debris. To clean the wiper blades and arms, use a clean sponge or cloth with a mild soap or detergent and water.
If the wipers continue to streak or smear the glass, replace them with genuine Hyundai replacement parts or their equivalent.
CAUTION:
o Do not operate the wipers on dry glass.
This can result in more rapid wear of the wiper blades and may scratch the glass.
o Keep the blade rubber out of contact with petroleum products such as engine oil, gasoline, etc.
See also:
Spark Plugs
Make sure to install new spark plugs of the correct heat range. ...
Exterior
The sleek-lined Silverstone Metallic Genesis coupe with a rear spoiler turned plenty of heads - something I enjoyed. The Genesis coupe is sporty and sexy, and it resembles other uber-expensive fla ...
Don't let ice and snow accumulate underneath
Under some conditions, snow and ice can build up under the fenders and interfere with the steering. When driving in severe winter conditions where this may happen, you should periodically check un ...