Instrument and controls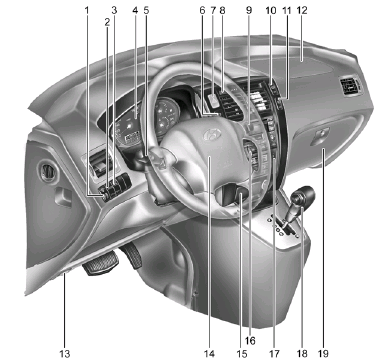 1. Panel Brightness Control Knob (Rheostat Switch).
2. 4WD Lock Switch (If installed).
3. Traction Control System (TCS) Switch (If installed) / Electronic Stability Control (ESC) Switch (If installed).
4. Instrument Cluster.
5. Multi-Function Light Switch (If installed).
6. Front Window Defroster (If installed) / Aux Outlet (If installed).
7. Hazard Warning Light Switch.
8. Digital Clock.
9. Windshield Wiper/Washer Switch.
10. Rear Defroster and Outside Rearview Mirror Heater Switch (If installed).
11. Front Fog Light Switch (If installed).
12. Passenger's Airbag.
13. Hood Release Lever.
14. Horn and Driver's Airbag.
15. Small Article Tray / Ashtray (If installed).
16. Cruise Control Switch (If installed).
17. Heating/Air Conditioning Control Panel (If installed).
18. Shift Lever (If installed).
19. Glove Box.
CAUTION:
When installing a container of liquid air freshener inside the vehicle, do not place it near the instrument cluster nor on the instrument panel surface. If there is any leakage from the air freshener onto these areas (Instrument cluster, instrument panel or air ventilator), it may damage these parts. If the liquid from the air freshener does leak onto these areas, wash them with water immediately.
See also:
Engine exhaust can be dangerous!
WARNING: ENGINE EXHAUST CAN BE DANGEROUS! Engine exhaust fumes can be extremely dangerous. If, at any time, you smell exhaust fumes inside the vehicle, open the windows immediately. o Do not inhal ...
Use Unleaded Gasoline
Unleaded gasoline with a Pump Octane Rating of 87 (Research Octane Number 91) or higher must be used in your Hyundai. WARNING: o Do not "top off" after the nozzle automatically shuts o ...
Checking the Battery
Keep the battery clean. Any evidence of corrosion around the battery posts or terminals should be removed using a solution of household baking soda and warm water. After the battery terminals are ...