Instrument and controls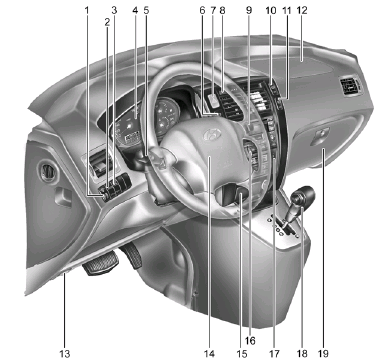 1. Panel Brightness Control Knob (Rheostat Switch).
2. 4WD Lock Switch (If installed).
3. Traction Control System (TCS) Switch (If installed) / Electronic Stability Control (ESC) Switch (If installed).
4. Instrument Cluster.
5. Multi-Function Light Switch (If installed).
6. Front Window Defroster (If installed) / Aux Outlet (If installed).
7. Hazard Warning Light Switch.
8. Digital Clock.
9. Windshield Wiper/Washer Switch.
10. Rear Defroster and Outside Rearview Mirror Heater Switch (If installed).
11. Front Fog Light Switch (If installed).
12. Passenger's Airbag.
13. Hood Release Lever.
14. Horn and Driver's Airbag.
15. Small Article Tray / Ashtray (If installed).
16. Cruise Control Switch (If installed).
17. Heating/Air Conditioning Control Panel (If installed).
18. Shift Lever (If installed).
19. Glove Box.
CAUTION:
When installing a container of liquid air freshener inside the vehicle, do not place it near the instrument cluster nor on the instrument panel surface. If there is any leakage from the air freshener onto these areas (Instrument cluster, instrument panel or air ventilator), it may damage these parts. If the liquid from the air freshener does leak onto these areas, wash them with water immediately.
See also:
Driving in the rain
Rain and wet roads can make driving dangerous, especially if you're not prepared for the slick pavement. Here are a few things to consider when driving in the rain: • A heavy rainfall will make it ...
Tire care
For proper maintenance, safety, and maximum fuel economy, you must always maintain recommended tire inflation pressures and stay within the load limits and weight distribution recommended for your ...
Tire terminology and definitions
Air Pressure: The amount of air inside the tire pressing outward on the tire. Air pressure is expressed in pounds per square inch (psi) or kilopascal (kPa). Accessory Weight: This means the combi ...