Instrument and controls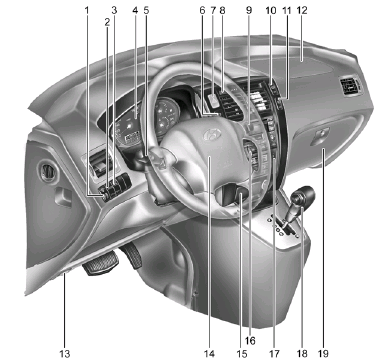 1. Panel Brightness Control Knob (Rheostat Switch).
2. 4WD Lock Switch (If installed).
3. Traction Control System (TCS) Switch (If installed) / Electronic Stability Control (ESC) Switch (If installed).
4. Instrument Cluster.
5. Multi-Function Light Switch (If installed).
6. Front Window Defroster (If installed) / Aux Outlet (If installed).
7. Hazard Warning Light Switch.
8. Digital Clock.
9. Windshield Wiper/Washer Switch.
10. Rear Defroster and Outside Rearview Mirror Heater Switch (If installed).
11. Front Fog Light Switch (If installed).
12. Passenger's Airbag.
13. Hood Release Lever.
14. Horn and Driver's Airbag.
15. Small Article Tray / Ashtray (If installed).
16. Cruise Control Switch (If installed).
17. Heating/Air Conditioning Control Panel (If installed).
18. Shift Lever (If installed).
19. Glove Box.
CAUTION:
When installing a container of liquid air freshener inside the vehicle, do not place it near the instrument cluster nor on the instrument panel surface. If there is any leakage from the air freshener onto these areas (Instrument cluster, instrument panel or air ventilator), it may damage these parts. If the liquid from the air freshener does leak onto these areas, wash them with water immediately.
See also:
Child restraint system
Children riding in the car should sit in the rear seat and must always be properly restrained to minimize the risk of injury in an accident, sudden stop or sudden maneuver. According to accident s ...
Hybrid-ness
Before I get into the performance and technology aspects of what makes the Sonata Hybrid tick, I've got to point out the fact that the Sonata Hybrid looks dramatically different from its gasoline- ...
Instrument cluster
1. Tachometer 2. Turn signal indicators 3. Speedometer 4. Engine temperature gauge 5.Warning and indicator lights 6. Fuel gauge 7. Odometer/Trip computer * The actual cluster in the vehicle m ...