Instrument and controls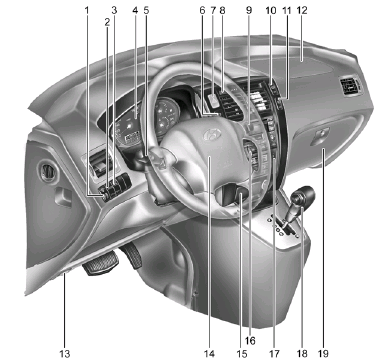 1. Panel Brightness Control Knob (Rheostat Switch).
2. 4WD Lock Switch (If installed).
3. Traction Control System (TCS) Switch (If installed) / Electronic Stability Control (ESC) Switch (If installed).
4. Instrument Cluster.
5. Multi-Function Light Switch (If installed).
6. Front Window Defroster (If installed) / Aux Outlet (If installed).
7. Hazard Warning Light Switch.
8. Digital Clock.
9. Windshield Wiper/Washer Switch.
10. Rear Defroster and Outside Rearview Mirror Heater Switch (If installed).
11. Front Fog Light Switch (If installed).
12. Passenger's Airbag.
13. Hood Release Lever.
14. Horn and Driver's Airbag.
15. Small Article Tray / Ashtray (If installed).
16. Cruise Control Switch (If installed).
17. Heating/Air Conditioning Control Panel (If installed).
18. Shift Lever (If installed).
19. Glove Box.
CAUTION:
When installing a container of liquid air freshener inside the vehicle, do not place it near the instrument cluster nor on the instrument panel surface. If there is any leakage from the air freshener onto these areas (Instrument cluster, instrument panel or air ventilator), it may damage these parts. If the liquid from the air freshener does leak onto these areas, wash them with water immediately.
See also:
Имущественное страхование и договор
Человеку всегда было присуще желание как-то обезопасить себя от вредоносных последствий жизни или хотя бы попытаться свести их к минимуму. Для одних это связано с опасной работой, где высока доля р ...
To Check the Oil Level
Before checking the oil, warm up the engine to the normal operating temperature and be sure it is parked on level ground. Turn the engine off. Wait five minutes, then remove the dipstick, wipe it ...
BRAKE PAD WEAR WARNING SOUND
The front disc brake pads have wear indicators that should make a high-pitched squealing or scraping noise when new pads are needed. The sound may come and go or be heard all the time when the veh ...