Instrument and controls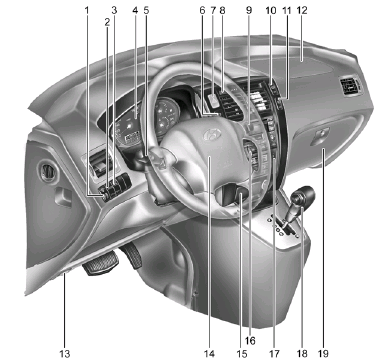 1. Panel Brightness Control Knob (Rheostat Switch).
2. 4WD Lock Switch (If installed).
3. Traction Control System (TCS) Switch (If installed) / Electronic Stability Control (ESC) Switch (If installed).
4. Instrument Cluster.
5. Multi-Function Light Switch (If installed).
6. Front Window Defroster (If installed) / Aux Outlet (If installed).
7. Hazard Warning Light Switch.
8. Digital Clock.
9. Windshield Wiper/Washer Switch.
10. Rear Defroster and Outside Rearview Mirror Heater Switch (If installed).
11. Front Fog Light Switch (If installed).
12. Passenger's Airbag.
13. Hood Release Lever.
14. Horn and Driver's Airbag.
15. Small Article Tray / Ashtray (If installed).
16. Cruise Control Switch (If installed).
17. Heating/Air Conditioning Control Panel (If installed).
18. Shift Lever (If installed).
19. Glove Box.
CAUTION:
When installing a container of liquid air freshener inside the vehicle, do not place it near the instrument cluster nor on the instrument panel surface. If there is any leakage from the air freshener onto these areas (Instrument cluster, instrument panel or air ventilator), it may damage these parts. If the liquid from the air freshener does leak onto these areas, wash them with water immediately.
See also:
Tire replacement
If the tire is worn evenly, a tread wear indicator will appear as a solid band across the tread. This shows there is less than 1/16 inch (1.6 mm) of tread left on the tire. Replace the tire when ...
Air Flow Control
This is used to direct the flow of air. Air can be directed to the floor, instrument panel outlets, or windshield. Five symbols are used to represent Face, Bi- Level, Floor, Floor-Defrost and De ...
Smooth cornering
Avoid braking or gear changing in corners, especially when roads are wet. Ideally, corners should always be taken under gentle acceleration. If you follow these suggestions, tire wear will be held ...