Power Connector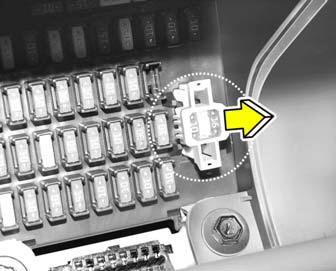 Your vehicle is equipped with a power connector to prevent battery discharge if your vehicle is parked without being operated for prolonged periods. Use the following procedures before parking the vehicle for prolonged periods.
1. Turn off the engine.
2. Turn off the headlights and tail lights.
3. Open the driver's side panel cover and pull up the power connector.
4. Insert the power connector in the opposite direction.
NOTE:
o If the power connector is pulled up from the fuse panel, the warning chime, audio, clock and interior lamps, etc., will not operate. The following items must be reset after replacement.
- Digital Clock
- Trip computer
- Automatic heating and cooling control system - Audio
o Even when the power connector is pulled up, the battery can still be discharged by operation of the headlights or other electrical devices.
See also:
Checking the washer fluid level
The reservoir is translucent so that you can check the level with a quick visual inspection. Check the fluid level in the washer fluid reservoir and add fluid if necessary. Plain water may be u ...
Changing Wheels
Loosen the wheel nuts and remove them with your fingers. Slide the wheel off the studs and lay it flat so it cannot roll away. To put the wheel on the hub, pick up the spare tire, line up the ho ...
Winter Driving
The more severe weather conditions of winter result in greater wear and other problems. To minimize the problems of winter driving, you should follow these suggestions: ...