Power Connector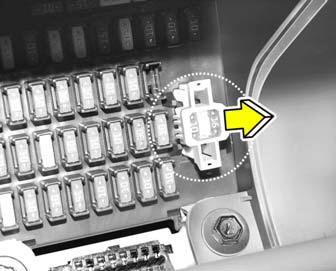 Your vehicle is equipped with a power connector to prevent battery discharge if your vehicle is parked without being operated for prolonged periods. Use the following procedures before parking the vehicle for prolonged periods.
1. Turn off the engine.
2. Turn off the headlights and tail lights.
3. Open the driver's side panel cover and pull up the power connector.
4. Insert the power connector in the opposite direction.
NOTE:
o If the power connector is pulled up from the fuse panel, the warning chime, audio, clock and interior lamps, etc., will not operate. The following items must be reset after replacement.
- Digital Clock
- Trip computer
- Automatic heating and cooling control system - Audio
o Even when the power connector is pulled up, the battery can still be discharged by operation of the headlights or other electrical devices.
See also:
General Checks
These are the regular checks you should perform when you drive your Hyundai or you fill the fuel tank. A list of these items will be found on page 6-4. ...
Protecting Your Hyundai from Corrosion
By using the most advanced design and construction practices to combat corrosion, Hyundai produces cars of the highest quality. However, this is only part of the job. To achieve the long term corr ...
Impact sensing door unlock system (if equipped)
All doors will be automatically unlocked when the impact is delivered to impact sensors while the ignition switch is ON. However, the doors may not be unlocked if mechanical problems occur with the ...