Power Connector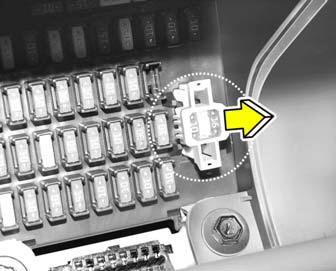 Your vehicle is equipped with a power connector to prevent battery discharge if your vehicle is parked without being operated for prolonged periods. Use the following procedures before parking the vehicle for prolonged periods.
1. Turn off the engine.
2. Turn off the headlights and tail lights.
3. Open the driver's side panel cover and pull up the power connector.
4. Insert the power connector in the opposite direction.
NOTE:
o If the power connector is pulled up from the fuse panel, the warning chime, audio, clock and interior lamps, etc., will not operate. The following items must be reset after replacement.
- Digital Clock
- Trip computer
- Automatic heating and cooling control system - Audio
o Even when the power connector is pulled up, the battery can still be discharged by operation of the headlights or other electrical devices.
See also:
Washing and waxing
Washing Your Hyundai Never wash your car when the surface is hot from being in the sun. Always wash your car in the shade. Wash your car frequently. Dirt is abrasive and can scratch the paint if ...
2011 Hyundai Sonata review by G. Chambers Williams III
Among them is the newest generation of Hyundai's midsize sedan, the Sonata, now available in dealerships as an early 2011 model. The South Korean automaker introduced the new model to automotive j ...
DIRECT INJECTION LAMBDA 3.8-LITER ENGINE
In keeping with its 5.0-liter V8 sibling, the Hyundai Genesis 3.8-liter Lambda engine will receive direct injection (GDI) technology, boosting its output 15 percent from 290 to 333 horsepower, an ...