Power Connector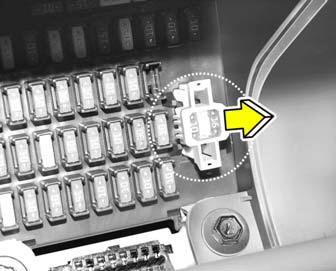 Your vehicle is equipped with a power connector to prevent battery discharge if your vehicle is parked without being operated for prolonged periods. Use the following procedures before parking the vehicle for prolonged periods.
1. Turn off the engine.
2. Turn off the headlights and tail lights.
3. Open the driver's side panel cover and pull up the power connector.
4. Insert the power connector in the opposite direction.
NOTE:
o If the power connector is pulled up from the fuse panel, the warning chime, audio, clock and interior lamps, etc., will not operate. The following items must be reset after replacement.
- Digital Clock
- Trip computer
- Automatic heating and cooling control system - Audio
o Even when the power connector is pulled up, the battery can still be discharged by operation of the headlights or other electrical devices.
See also:
Overview
Hyundai introduced its all-new 2011 Hyundai Sonata at the 2009 Los Angeles Auto Show. This marked the North American debut of the latest version of the popular midsize sedan, introducing Hyundai's ...
Scheduled maintenance service
Follow Normal Maintenance Schedule if the vehicle is usually operated where none of the following conditions apply. If any of the following conditions apply, follow Maintenance Under Severe Usage ...
SPACIOUS INTERIOR WITH PLENTY OF CARGO ROOM
Other less exciting matters like cargo space and interior volume are also high points for the Accent, with rather generous helpings of both available in the Hyundai. The company says that the Acce ...