Changing the Climate Control Air Filter
The climate control air filter is located in front of the evaporator unit behind the glove box.
It helps to decrease the amount of pollutants entering the car.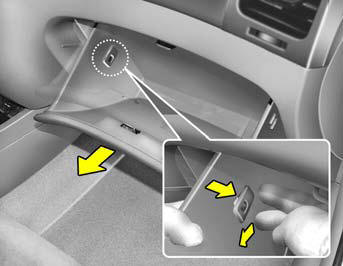 1. Open the glove box and remove the adjusting pins on both sides of the glove box.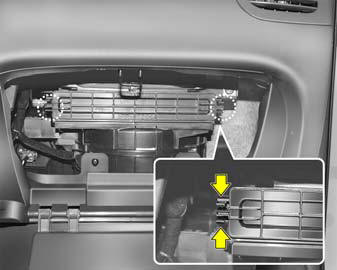 2. Pull out the climate control air filter with the hooks on both sides pressed.
CAUTION:
Be careful not to press the hooks in the opposite direction.
3. Take out the climate control air filter and replace it with a new one.
4. Installation is the reverse order of disassembly.
See also:
Good driving practices
• Never take the vehicle out of gear and coast down a hill. This is extremely hazardous. Always leave the vehicle in gear. • Do not "ride" the brakes. This can cause them to overheat and ...
Maintaining Bumpers
Special precautions must be observed to preserve the appearance of the bumpers on your Hyundai. They are: o Be careful not to spill battery electrolyte or hydraulic brake fluid on the bumpers. If ...
Gasolines for Cleaner Air
To help contribute to cleaner air, Hyundai recommends you use gasolines treated with detergent additives, which help prevent deposit formation in the engine. These gasolines will help the engine r ...