Changing the Air Cleaner Filter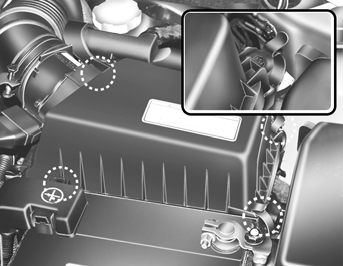 The replacement of air cleaner filter is performed in the following manner.
1. Unsnap the clips around the cover.
2. When this is done, the cover can be lifted off, the old filter removed and the new filter put in its place.
Genuine Hyundai replacement parts are recommended.
CAUTION:
o Operating your vehicle without a proper air filter in place can result in excessive engine wear.
o When removing the air cleaner filter, be careful that dust or dirt does not enter the air intake. These may result in damage to the air cleaner filter.
See also:
Using a child restraint system
For safety reasons, we recommend that the child restraint system be used in the rear seats. WARNING Never place a rear-facing child restraint in the front passenger seat, because of the dang ...
Checking the Brake Fluid Level
WARNING: Use caution when handling brake fluid. It can damage your vision if it gets into your eyes. It will also damage your vehicle's paint if spilled on it and not removed immediately. ...
DIRECT INJECTION LAMBDA 3.8-LITER ENGINE
In keeping with its 5.0-liter V8 sibling, the Hyundai Genesis 3.8-liter Lambda engine will receive direct injection (GDI) technology, boosting its output 15 percent from 290 to 333 horsepower, an ...