To Check the Coolant Level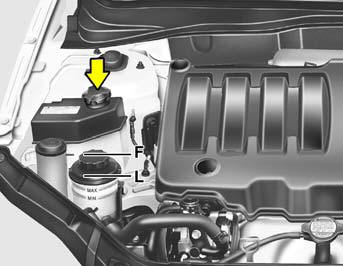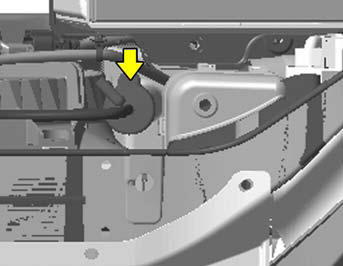 The coolant level can be seen on the side of the plastic coolant reservoir. The level of the coolant should be between the "L" and "F" lines on the reservoir when the engine is cool.
If the level is below the "L" mark, add engine coolant to bring it up between "L" and "F". If the level is low, inspect for coolant leaks and recheck the fluid level frequently. If the level drops again, visit your Hyundai dealer for an inspection and diagnosis of the reason.
CAUTION:
o Engine coolant can damage the finish of your car. If you spill engine coolant on the car, wash it off thoroughly with clean water.
o The engine in your vehicle has aluminum engine parts and must be protected by an ethylene-glycol base coolant to prevent corrosion and freezing.
Do not use hard water. Hard water can cause engine damage from corrosion, overheating or freezing.
WARNING:
The cooling fan is controlled by engine coolant temperature and may sometimes operate even when the engine is not running. Use extreme caution when working near the blades of the cooling fan so that you are not injured by a rotating fan blade. As the engine coolant temperature decreases, the fan will automatically shut off. This is a normal condition.
See also:
Hyundai Accent Review
Style and glamour may have eluded the Hyundai Accent, but since its 1995 introduction, this economy car has been one of the better-built, better-performing choices at the bottom end of the new car ...
Checking the brakes
CAUTION: Because brakes are essential to the safe operation of the car, it is suggested that they be checked and inspected by your Hyundai dealer. The brakes should be checked and inspected for w ...
Heating and air conditioning
1. Start the engine. 2. Set the mode to the desired position. To improve the effectiveness of heating and cooling : - Heating: - Cooling: 3. Set the temperature control to the desired position. ...