Engine Compartment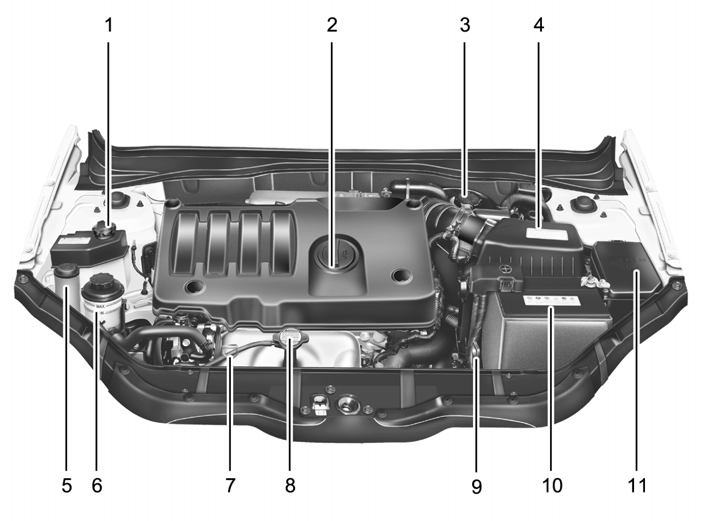 1. Engine coolant reservoir
2. Engine oil filler cap 3. Brake fluid reservoir 4. Air cleaner filter
5. Windshield washer fluid reservoir cap 6. Power steering fluid reservoir (If Installed) 7. Engine oil level dipstick 8. Radiator cap
9. Automatic transaxle fluid level dipstick (If Installed) 10. Battery
11. Fuse/Relay box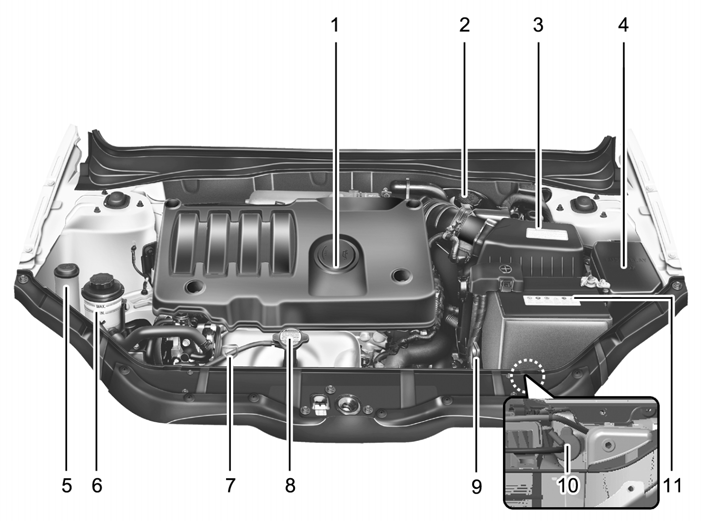 1. Engine oil filler cap 2. Brake fluid reservoir 3. Air cleaner filter
4. Fuse/Relay box
5. Windshield washer fluid reservoir cap 6. Power steering fluid reservoir (If Installed) 7. Engine oil level dipstick 8. Radiator cap
9. Automatic transaxle fluid level dipstick (If Installed) 10. Engine coolant reservoir 11. Battery
See also:
Power Steering Pump, Belt and Hoses
Check the power steering pump and hoses for leakage and damage. Replace any damaged or leaking parts immediately. Inspect the power steering belt for evidence of cuts, cracks, excessive wear, oili ...
Exhaust pipe and muffler
Visually inspect the exhaust pipes, muffler and hangers for cracks, deterioration, or damage. Start the engine and listen carefully for any exhaust gas leakage. Tighten connections or replace part ...
Steering wheel audio control (if equipped)
The steering wheel may incorporate audio control buttons. CAUTION Do not operate audio remote control buttons simultaneously. 1. VOLUME (VOL+/-) • Push the lever upward (+) to increase the volum ...