Engine Compartment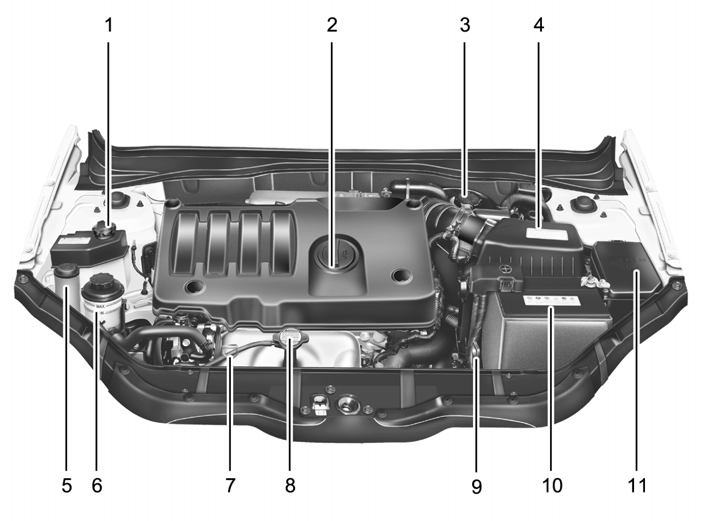 1. Engine coolant reservoir
2. Engine oil filler cap 3. Brake fluid reservoir 4. Air cleaner filter
5. Windshield washer fluid reservoir cap 6. Power steering fluid reservoir (If Installed) 7. Engine oil level dipstick 8. Radiator cap
9. Automatic transaxle fluid level dipstick (If Installed) 10. Battery
11. Fuse/Relay box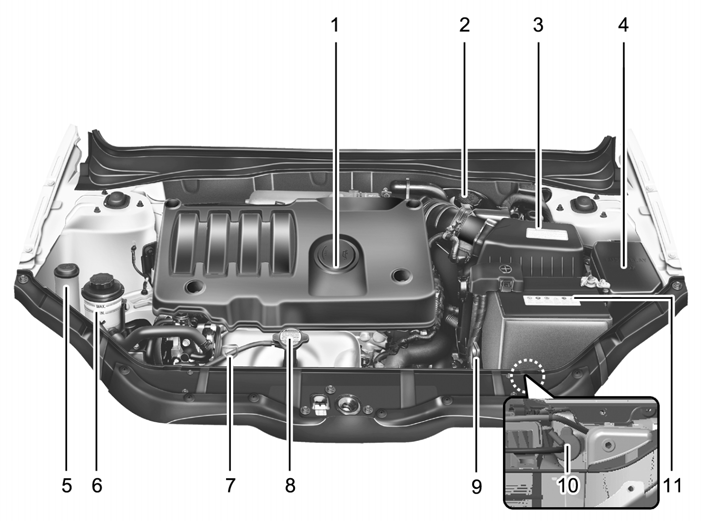 1. Engine oil filler cap 2. Brake fluid reservoir 3. Air cleaner filter
4. Fuse/Relay box
5. Windshield washer fluid reservoir cap 6. Power steering fluid reservoir (If Installed) 7. Engine oil level dipstick 8. Radiator cap
9. Automatic transaxle fluid level dipstick (If Installed) 10. Engine coolant reservoir 11. Battery
See also:
Vehicle data collection and event data recorders
This vehicle is equipped with an event data recorder (EDR). The main purpose of an EDR is to record, in certain crash or near crash-like situations, such as an air bag deployment or hitting a road ...
Automatic transaxle fluid (if equipped)
Automatic transaxle fluid should not be checked under normal usage conditions. But in severe conditions, the fluid should be changed at an authorized HYUNDAI dealer in accordance to the scheduled ...
Tire balancing
A tire that is out of balance may affect handling and tire wear. The tires on your Hyundai were balanced before the car was delivered but may need balancing again during the years you own the car. ...