Engine Compartment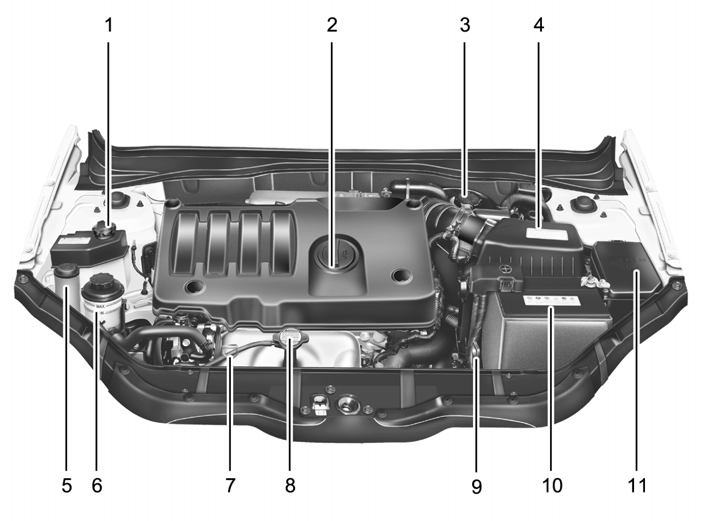 1. Engine coolant reservoir
2. Engine oil filler cap 3. Brake fluid reservoir 4. Air cleaner filter
5. Windshield washer fluid reservoir cap 6. Power steering fluid reservoir (If Installed) 7. Engine oil level dipstick 8. Radiator cap
9. Automatic transaxle fluid level dipstick (If Installed) 10. Battery
11. Fuse/Relay box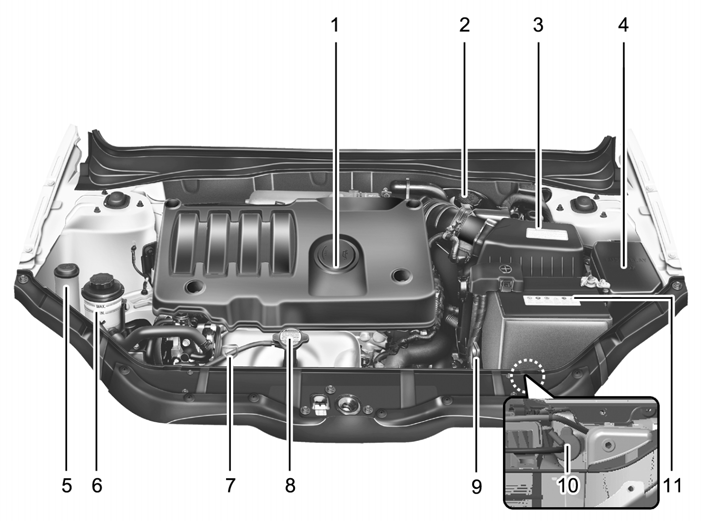 1. Engine oil filler cap 2. Brake fluid reservoir 3. Air cleaner filter
4. Fuse/Relay box
5. Windshield washer fluid reservoir cap 6. Power steering fluid reservoir (If Installed) 7. Engine oil level dipstick 8. Radiator cap
9. Automatic transaxle fluid level dipstick (If Installed) 10. Engine coolant reservoir 11. Battery
See also:
Vehicle identification number (VIN)
The vehicle identification number (VIN) is the number used in registering your car and in all legal matters pertaining to its ownership, etc. The number is punched on the engine compartment bulkh ...
Tire traction
Tire traction can be reduced if you drive on worn tires, tires that are improperly inflated or on slippery road surfaces. Tires should be replaced when tread wear indicators appear. To reduce the ...
HAZARD WARNING SYSTEM
The hazard warning system should be used whenever you find it necessary to stop the car in a hazardous location. When you must make such an emergency stop, always pull off the road as far as pos ...