Raising the Car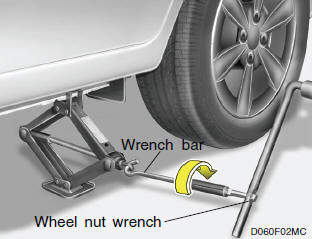 After inserting a wrench bar into the wheel nut wrench, install the wrench bar into the jack as shown in the drawing. To raise the vehicle, turn the wheel nut wrench clockwise. As the jack begins to raise the vehicle, double check that it is properly positioned and will not slip. If the jack is on soft ground or sand, place a board, brick, flat stone or other object under the base of the jack to keep it from sinking.
Raise the car high enough so that the fully inflated spare tire can be installed.
To do this, you will need more ground clearance than is required to remove the flat tire.
WARNING:
Do not get under the car when it is supported by the jack! This is very dangerous as the vehicle could fall and cause serious injury or death. No one should stay in the car while the jack is being used.
See also:
Adding equipment to or modifying your air bag-equipped vehicle
If you modify your vehicle by changing your vehicle's frame, bumper system, front end or side sheet metal or ride height, this may affect the operation of your vehicle's air bag system. ...
Check Spark Plugs and Ignition System
Inspect your spark plugs and replace them if necessary. Also check all ignition wiring and components to be sure they are not cracked, worn or damaged in any way. ...
Interior
I have so much stuff to juggle when trying to get into any car: a purse, my kids' lunchboxes, swim bags, library books, dry cleaning, a bottle of water and more. This is why I'm such a fan of the ...