Raising the Car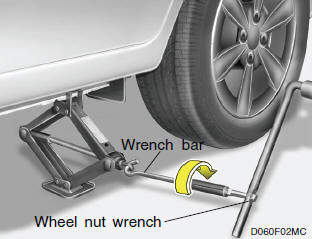 After inserting a wrench bar into the wheel nut wrench, install the wrench bar into the jack as shown in the drawing. To raise the vehicle, turn the wheel nut wrench clockwise. As the jack begins to raise the vehicle, double check that it is properly positioned and will not slip. If the jack is on soft ground or sand, place a board, brick, flat stone or other object under the base of the jack to keep it from sinking.
Raise the car high enough so that the fully inflated spare tire can be installed.
To do this, you will need more ground clearance than is required to remove the flat tire.
WARNING:
Do not get under the car when it is supported by the jack! This is very dangerous as the vehicle could fall and cause serious injury or death. No one should stay in the car while the jack is being used.
See also:
If You Have a Flat Tire
If a tire goes flat while you are driving: 1. Take your foot off the accelerator pedal and let the car slow down while driving straight ahead. Do not apply the brakes immediately or attempt to pull ...
Trunk Lid (4 Door)
o The trunk lid is opened by first turning the key clockwise to release the lock, then raising the door manually. o To close, lower the trunk lid, then press down on it until it locks. To be sure ...
Infant or Small Child
All 50 states have child restraint laws. You should be aware of the specific requirements in your state. Child and/or infant safety seats must be properly placed and installed in the rear seat. In ...