Raising the Car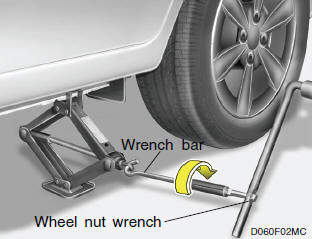 After inserting a wrench bar into the wheel nut wrench, install the wrench bar into the jack as shown in the drawing. To raise the vehicle, turn the wheel nut wrench clockwise. As the jack begins to raise the vehicle, double check that it is properly positioned and will not slip. If the jack is on soft ground or sand, place a board, brick, flat stone or other object under the base of the jack to keep it from sinking.
Raise the car high enough so that the fully inflated spare tire can be installed.
To do this, you will need more ground clearance than is required to remove the flat tire.
WARNING:
Do not get under the car when it is supported by the jack! This is very dangerous as the vehicle could fall and cause serious injury or death. No one should stay in the car while the jack is being used.
See also:
Good driving practices
• Never take the vehicle out of gear and coast down a hill. This is extremely hazardous. Always leave the vehicle in gear. • Do not "ride" the brakes. This can cause them to overheat and ...
2007 Hyundai Santa Fe review
If we were to pick the best redesigned SUVs for 2007, Hyundai's Santa Fe would be among the finalists. The overhaul gives new life to a model that was desperately in need of an update to stay comp ...
Window Glass
To lower or raise the window, turn the window regulator handle clockwise or counterclockwise. WARNING: When opening or closing the windows, make sure your passenger's arms, hands and body ar ...