Raising the Car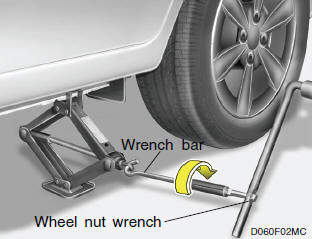 After inserting a wrench bar into the wheel nut wrench, install the wrench bar into the jack as shown in the drawing. To raise the vehicle, turn the wheel nut wrench clockwise. As the jack begins to raise the vehicle, double check that it is properly positioned and will not slip. If the jack is on soft ground or sand, place a board, brick, flat stone or other object under the base of the jack to keep it from sinking.
Raise the car high enough so that the fully inflated spare tire can be installed.
To do this, you will need more ground clearance than is required to remove the flat tire.
WARNING:
Do not get under the car when it is supported by the jack! This is very dangerous as the vehicle could fall and cause serious injury or death. No one should stay in the car while the jack is being used.
See also:
Ride & Handling
Before driving the Elantra, I had my reservations about its driving dynamics. Some of Hyundai's other small models, like the Tucson crossover, don't offer the best driving experience, and I wonder ...
Electronic stability control (ESC) system
(If installed) WARNING: Never drive too fast for the road conditions or too quickly when cornering. Electronic stability control (ESC) will not prevent accidents. Excessive speed in turns, abrupt ...
Luggage Compartment Light
1. Open the trunk lid (4 Door) or tail gate (3 Door). 2. Carefully remove the cover with a flathead screwdriver. 3. Replace with a new bulb. ...