Raising the Car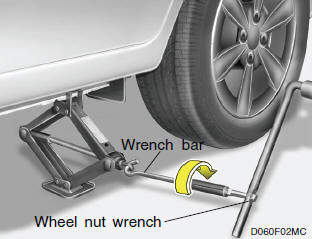 After inserting a wrench bar into the wheel nut wrench, install the wrench bar into the jack as shown in the drawing. To raise the vehicle, turn the wheel nut wrench clockwise. As the jack begins to raise the vehicle, double check that it is properly positioned and will not slip. If the jack is on soft ground or sand, place a board, brick, flat stone or other object under the base of the jack to keep it from sinking.
Raise the car high enough so that the fully inflated spare tire can be installed.
To do this, you will need more ground clearance than is required to remove the flat tire.
WARNING:
Do not get under the car when it is supported by the jack! This is very dangerous as the vehicle could fall and cause serious injury or death. No one should stay in the car while the jack is being used.
See also:
135,000 miles (216,000 km) or 108 months
❑ Inspect air cleaner filter ❑ Inspect vacuum hose ❑ Inspect air conditioning refrigerant ❑ Inspect brake hoses and lines ❑ Inspect drive shafts and boots d ...
Sliding the sunroof
To open or close the sunroof (manual slide feature), pull or push the sunroof control lever backward or forward to the first detent position. Pulling the control lever downward also closes the su ...
SMOOTH CORNERING
Avoid braking or gear changing in corners, especially when roads are wet. Ideally, corners should always be taken under gentle acceleration. If you follow these suggestions, tire wear will be held ...