Satellite radio reception
You may experience problems in receiving XMTM satellite radio signals in the following situations.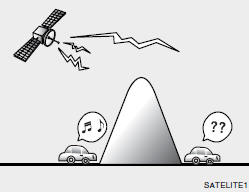 Х If you are driving in a tunnel or a covered parking area.
Х If you are driving beneath the top level of a multi-level freeway.
Х If you drive under a bridge.
Х If you are driving next to a tall vehicle (such as a truck or a bus) that block the signal.
Х If you are driving in a valley where the surrounding hills or peaks block the signal from the satellite.
Х If you are driving on a mountain road where the signal is blocked by mountains.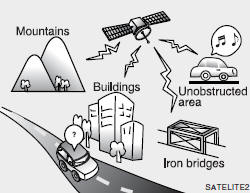 Х If you are driving in an area with tall trees that block the signal (10m or more) ; for example, on a road through a dense forest.
Х The signal can become weak in some areas that are not covered by the repeater station network.
Please note that these may be other unforeseen circumstances when there are problems with the reception of XMTM satellite radio signal.
See also:
SRS components and functions
The SRS consists of the following components: 1. Driver's front air bag module 2. Passenger's front air bag module 3. Side impact air bag modules 4. Curtain air bag modules 5. Retractor ...
Filter replacement
It must be replaced when necessary, and should not be cleaned and reused. You can clean the filter when inspecting the air cleaner element. Clean the filter by using compressed air. 1. Loosen ...
Styling
The redesigned Elantra makes a good case for being the most stylish new compact sedan on the market. The car's designer, Cedric D'Andre, said one of the goals of the design was to create a car tha ...