Satellite radio reception
You may experience problems in receiving XMTM satellite radio signals in the following situations.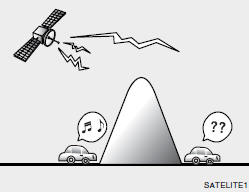 Х If you are driving in a tunnel or a covered parking area.
Х If you are driving beneath the top level of a multi-level freeway.
Х If you drive under a bridge.
Х If you are driving next to a tall vehicle (such as a truck or a bus) that block the signal.
Х If you are driving in a valley where the surrounding hills or peaks block the signal from the satellite.
Х If you are driving on a mountain road where the signal is blocked by mountains.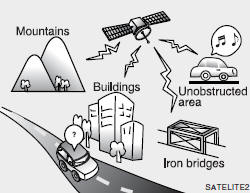 Х If you are driving in an area with tall trees that block the signal (10m or more) ; for example, on a road through a dense forest.
Х The signal can become weak in some areas that are not covered by the repeater station network.
Please note that these may be other unforeseen circumstances when there are problems with the reception of XMTM satellite radio signal.
See also:
2010 Hyundai Genesis Coupe review By Mike Hanley
Hyundai is on a mission in the U.S., diving headlong into new segments and challenging automotive norms. The full-size Genesis luxury sedan that the automaker debuted for 2009 shows that you can g ...
HEIGHT ADJUSTABLE FRONT SEAT SHOULDER BELT
You can adjust the height of the shoulder belt anchor to one of the 4 positions for maximum comfort and safety. If the height of the seat belt is too near your neck, you will not be getting the ...
REAR SEAT ENTRY (3 Door)
The front passenger's seatback should be tilted to enter the rear seat. By pulling up on the recliner control lever (1) at the outside of the front passenger's seat, the seatback will til ...