Satellite radio reception
You may experience problems in receiving XMTM satellite radio signals in the following situations.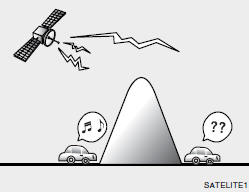 Х If you are driving in a tunnel or a covered parking area.
Х If you are driving beneath the top level of a multi-level freeway.
Х If you drive under a bridge.
Х If you are driving next to a tall vehicle (such as a truck or a bus) that block the signal.
Х If you are driving in a valley where the surrounding hills or peaks block the signal from the satellite.
Х If you are driving on a mountain road where the signal is blocked by mountains.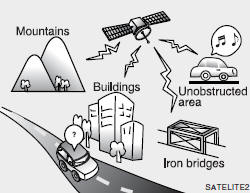 Х If you are driving in an area with tall trees that block the signal (10m or more) ; for example, on a road through a dense forest.
Х The signal can become weak in some areas that are not covered by the repeater station network.
Please note that these may be other unforeseen circumstances when there are problems with the reception of XMTM satellite radio signal.
See also:
Warranties for your Hyundai vehicle
Please consult your Owner's Handbook & Warranty Information booklet for your vehicle's specific warranty coverage. ...
Hood Release
1. Pull the release knob to unlatch the hood. 2. Pull the secondary latch lever up and lift the hood. 3. Pull the support rod from the hood. 4. Hold the hood open with the support rod. Bef ...
Folding the Outside Rearview Mirrors
To fold the outside rearview mirrors, push them towards the rear. To unfold the outside rear view mirrors, push them toward the front. The outside rearview mirrors can be folded rearward for park ...