Satellite radio reception
You may experience problems in receiving XMTM satellite radio signals in the following situations.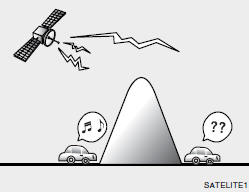 Х If you are driving in a tunnel or a covered parking area.
Х If you are driving beneath the top level of a multi-level freeway.
Х If you drive under a bridge.
Х If you are driving next to a tall vehicle (such as a truck or a bus) that block the signal.
Х If you are driving in a valley where the surrounding hills or peaks block the signal from the satellite.
Х If you are driving on a mountain road where the signal is blocked by mountains.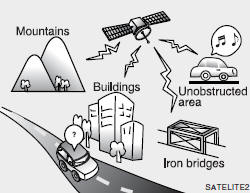 Х If you are driving in an area with tall trees that block the signal (10m or more) ; for example, on a road through a dense forest.
Х The signal can become weak in some areas that are not covered by the repeater station network.
Please note that these may be other unforeseen circumstances when there are problems with the reception of XMTM satellite radio signal.
See also:
Clothes hanger (if equipped)
To use the hanger, pull down the upper portion of hanger. CAUTION Do not hang heavy clothes, because it may damage the hook. ...
Tire chains
Tire chains, if necessary, should be installed on the front wheels. Be sure that the chains are installed in accordance with the manufacturer's instructions. To minimize tire and chain wear, do ...
Catalytic Converter
Hyundai vehicle is equipped with a monolith type three-way catalytic converter to reduce the carbon monoxide, hydrocarbons and nitrogen oxides contained in the exhaust gas. Exhaust gases passing ...