VENTILATION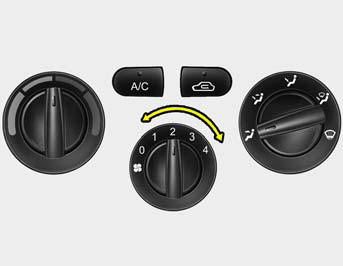 To operate the ventilation system: o Set the air intake control to "Fresh" mode (

).

o To direct all intake air to the dashboard vents, set the air flow control to the (

) position.

o Adjust the fan speed control to the desired speed.
o Set the temperature control between "Cool" and "Warm".
See also:
To Remove the Ignition Key
1. Turn the ignition key to the "ACC" position. 2. Simultaneously push and turn the ignition key counterclockwise from the "ACC" position to the "LOCK" position. 3. ...
Operating the manual transaxle
Your Hyundai's manual transaxle has a conventional shift pattern. This shift pattern is imprinted on the shift knob. The transaxle is fully synchronized in all forward gears so shifting to eithe ...
Use of MTBE
HYUNDAI recommends avoiding fuels containing MTBE (Methyl Tertiary Butyl Ether) over 15.0% vol. (Oxygen Content 2.7% weight) in your vehicle. Fuel containing MTBE over 15.0% vol. (Oxygen Content 2. ...