VENTILATION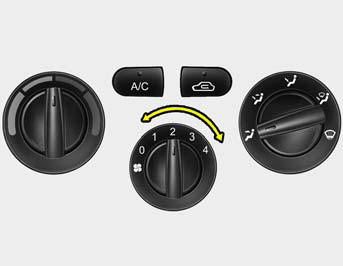 To operate the ventilation system: o Set the air intake control to "Fresh" mode (

).

o To direct all intake air to the dashboard vents, set the air flow control to the (

) position.

o Adjust the fan speed control to the desired speed.
o Set the temperature control between "Cool" and "Warm".
See also:
Catalytic Converter
Hyundai vehicle is equipped with a monolith type three-way catalytic converter to reduce the carbon monoxide, hydrocarbons and nitrogen oxides contained in the exhaust gas. Exhaust gases passing ...
Washing Your Hyundai
Never wash your car when the surface is hot from being in the sun. Always wash your car in the shade. Wash your car frequently. Dirt is abrasive and can scratch the paint if it is not removed. Ai ...
Drive Belts
Inspect all drive belts for evidence of cuts, cracks, excessive wear or oil saturation and replace if necessary. Drive belts should be checked periodically for proper tension and adjusted as neces ...