BI-LEVEL HEATING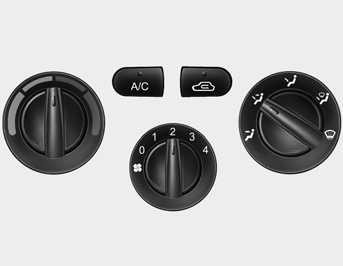 Your Hyundai is equipped with bi-level heating controls. This makes it possible to have cooler air from the dashboard vents and warmer air from the floor outlets at the same time. To use this feature: o Set the air intake control to the fresh air (

)
position.
o Set the air flow control at the bi-level (

)
position.
o Adjust the fan speed control to the desired speed.
o Set the temperature control between "Cool" and "Warm".
See also:
40 MPG POWERTRAIN
Under the hood, the Hyundai Elantra is powered by an all-new 1.8-liter Nu four-cylinder engine with 148 horsepower and 131 lb-ft of torque (145 horsepower and 130 lb-ft of torque for Elantra PZEV) ...
SMOOTH CORNERING
Avoid braking or gear changing in corners, especially when roads are wet. Ideally, corners should always be taken under gentle acceleration. If you follow these suggestions, tire wear will be held ...
To resume cruising speed at more than approximately 25 mph (40 km/h)
If any method other than the CRUISE ONOFF switch was used to cancel cruising speed and the system is still activated, the most recent set speed will automatically resume when the RES/+ switch is ...