HEATING CONTROLS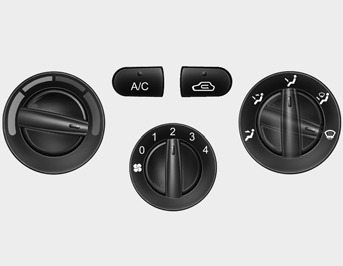 For normal heating operation, set the air intake control to the fresh air (

)
position and the air flow control to the floor (

)
position.
For faster heating, the air intake control should be set in the recirculate (

)
position.
If the windows fog up, set the air flow control to the defrost (

)
position (The A/C will automatically be turned on and "Fresh" mode will be activated.).
For maximum heat, move the temperature control to "Warm".
See also:
Genesis in the Market
Hyundai's lineup of cars and crossovers is impressive, with many leading their respective segments in terms of both value and performance. The Genesis has a problem finding a segment to fit into b ...
Tire traction
Tire traction can be reduced if you drive on worn tires, tires that are improperly inflated or on slippery road surfaces. Tires should be replaced when tread wear indicators appear. To reduce the ...
SMOOTH CORNERING
Avoid braking or gear changing in corners, especially when roads are wet. Ideally, corners should always be taken under gentle acceleration. If you follow these suggestions, tire wear will be held ...