To resume cruising speed at more than approximately 25 mph (40 km/h)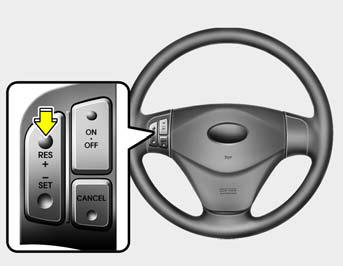 If any method other than the CRUISE ONOFF switch was used to cancel cruising speed and the system is still activated, the most recent set speed will automatically resume when the RES/+ switch is pushed. It will not resume, however, if the vehicle speed has dropped below approximately 25 mph (40 km/h)
See also:
License plate light bulb replacement
1. Loosen the retaining screws with a philips head screwdriver. 2. Remove the soket by turning it connterclockwise. 3. Remove the bulb by pulling it straight out. 4. Install a new bulb. 5. Reins ...
NEW 5.0 R-SPEC: MOST POWERFUL HYUNDAI V8 ENGINE EVER
The heart of the Hyundai Genesis 5.0 R-Spec model is a new Tau V8 engine producing 429 horsepower at 6,400 rpm and 376 lb. ft. of torque at 5,000 rpm. This new Tau V8 represents the most powerful ...
Steering wheel audio control (if equipped)
The steering wheel may incorporate audio control buttons. CAUTION Do not operate audio remote control buttons simultaneously. 1. VOLUME (VOL+/-) • Push the lever upward (+) to increase the volum ...