To resume cruising speed at more than approximately 25 mph (40 km/h)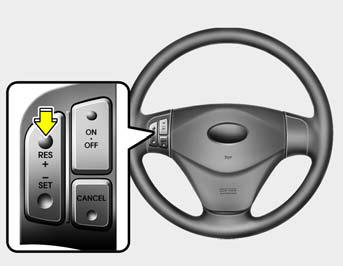 If any method other than the CRUISE ONOFF switch was used to cancel cruising speed and the system is still activated, the most recent set speed will automatically resume when the RES/+ switch is pushed. It will not resume, however, if the vehicle speed has dropped below approximately 25 mph (40 km/h)
See also:
Tire Rotation
Tires should be rotated every 7,500 miles (12,000 km). If you notice that tires are wearing unevenly between rotations, have the car checked by a Hyundai dealer so the cause may be corrected. A ...
2010 Hyundai Genesis Coupe review by Jim Mateja
The 2009 Hyundai Genesis sedan surprised many when it captured the North American Car of the Year award from the nation's automotive wordsmiths. Hyundai had won a loyal, if limited, following in t ...
Checking the Battery
Keep the battery clean. Any evidence of corrosion around the battery posts or terminals should be removed using a solution of household baking soda and warm water. After the battery terminals are ...