To resume cruising speed at more than approximately 25 mph (40 km/h)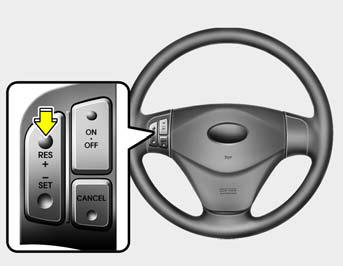 If any method other than the CRUISE ONOFF switch was used to cancel cruising speed and the system is still activated, the most recent set speed will automatically resume when the RES/+ switch is pushed. It will not resume, however, if the vehicle speed has dropped below approximately 25 mph (40 km/h)
See also:
Vacuum, Crankcase Ventilation Hoses
Inspect the surface of hoses for evidence of heat and/or mechanical damage. Hard and brittle rubber, cracking, tears, cuts, abrasions, and excessive swelling indicate deterioration. Particular att ...
Interior light
Do not use the interior lights for extended periods when the engine is not running. It may cause battery discharge. ...
Trailer towing
We do not recommend using this vehicle for trailer towing. ...