To resume cruising speed at more than approximately 25 mph (40 km/h)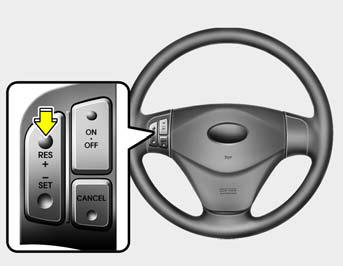 If any method other than the CRUISE ONOFF switch was used to cancel cruising speed and the system is still activated, the most recent set speed will automatically resume when the RES/+ switch is pushed. It will not resume, however, if the vehicle speed has dropped below approximately 25 mph (40 km/h)
See also:
Using the Clutch
The clutch should be pressed all the way to the floor before shifting, then released slowly. Do not rest your foot on the clutch pedal while driving. This can cause unnecessary wear. Do not parti ...
Injured Person
A seat belt should be used when an injured person is being transported. When this is necessary, you should consult a physician for recommendations. ...
40 MPG POWERTRAIN
Under the hood, the Hyundai Elantra is powered by an all-new 1.8-liter Nu four-cylinder engine with 148 horsepower and 131 lb-ft of torque (145 horsepower and 130 lb-ft of torque for Elantra PZEV) ...