To decrease the cruising speed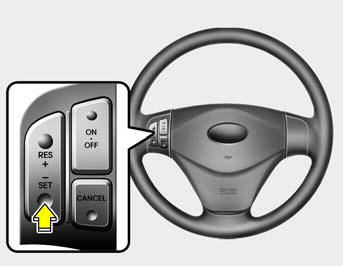 Follow either of these procedures:
o Push the -/SET switch and hold it. Your vehicle will gradually slow down. Release the switch at the speed you want to maintain.
o Push the -/SET switch and release it immediately. The cruising speed will decrease by 1 mph (1.6 km/h) each time the -/SET switch is operated in this manner.
See also:
Scheduled Maintenance
The following maintenance services must be performed to assure good vehicle control and performance. Keep receipts for all vehicle services to protect your warranty. Where both mileage and time ar ...
If engine stalls while driving
1. Reduce your speed gradually, keeping a straight line. Move cautiously off the road to a safe place. 2. Turn on your emergency flashers. 3. Try to start the engine again. If your vehicle will no ...
Driving for economy
You can save fuel and get more miles from your car if you follow these suggestions: o Drive smoothly. Accelerate at a moderate rate. Don't make "jack-rabbit" starts or fullthrottle shift ...