To decrease the cruising speed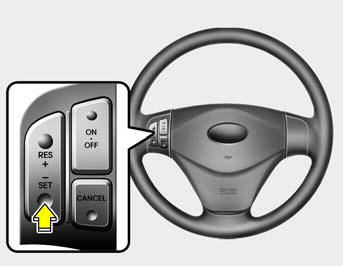 Follow either of these procedures:
o Push the -/SET switch and hold it. Your vehicle will gradually slow down. Release the switch at the speed you want to maintain.
o Push the -/SET switch and release it immediately. The cruising speed will decrease by 1 mph (1.6 km/h) each time the -/SET switch is operated in this manner.
See also:
Trunk Lid Emergency Latch Release
Your vehicle is equipped with a glow-inthe dark emergency trunk release lever located inside the trunk. It will glow after the trunk is closed. When pulled, this lever will release the trunk lat ...
Smooth cornering
Avoid braking or gear changing in corners, especially when roads are wet. Ideally, corners should always be taken under gentle acceleration. If you follow these suggestions, tire wear will be held ...
Rear view camera
The rearview camera will activate when the back-up light is ON with the ignition switch ON and the shift lever in the R position. This system is a supplemental system that shows behind the vehi ...