To decrease the cruising speed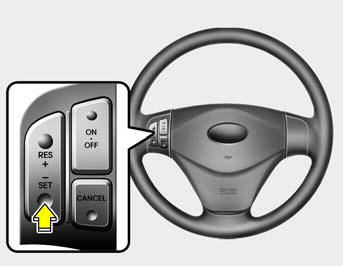 Follow either of these procedures:
o Push the -/SET switch and hold it. Your vehicle will gradually slow down. Release the switch at the speed you want to maintain.
o Push the -/SET switch and release it immediately. The cruising speed will decrease by 1 mph (1.6 km/h) each time the -/SET switch is operated in this manner.
See also:
Exterior & Interior Styling
Save for the standard 18-inch alloy wheels and dual exhaust, there's not much inside or out that differentiates the 2.0T from the non-turbo Sonata. I found the driver's seat comfortable, and mater ...
Genesis Coupe in the Market
Whether you'll like the Genesis coupe depends a lot on how hard you'll drive it. While sports car enthusiasts might not be fully satisfied with its dynamics, shoppers looking for a nicely equipped ...
FILLING THE WASHER RESERVOIR
A good quality washer fluid should be used to fill the washer reservoir. The fluid level should be checked more frequently during inclement weather or whenever the washer system is in more frequ ...