Windshield Washer Operation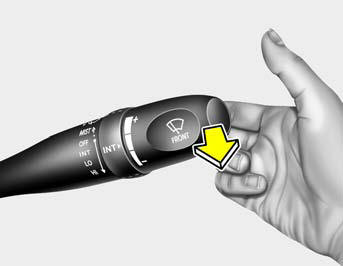 To use the windshield washer, pull the wiper/washer lever toward the steering wheel.
When the washer lever is operated, the wipers automatically make three passes across the windshield. The washer continues to operate until the lever is released.
NOTE:
o Do not operate the washer more than 15 seconds at a time or when the fluid reservoir is empty.
o In icy or freezing weather, be sure the wiper blades are not frozen to the glass prior to operating the wipers.
o In areas where water freezes in winter, use windshield washer antifreeze.
See also:
If the Engine Overheats
If your temperature gauge indicates overheating, you experience a loss of power, or hear loud pinging or knocking, the engine is probably too hot. If this happens, you should: 1. Pull off the roa ...
2012 Hyundai Elantra review
One of the likely consequences of the federal government's push for more stringent fuel economy standards is that more people will be driving smaller cars in the future. Not too long ago, with the ...
Electronic stability control (ESC) system
(If installed) WARNING: Never drive too fast for the road conditions or too quickly when cornering. Electronic stability control (ESC) will not prevent accidents. Excessive speed in turns, abrupt ...