Windshield Wiper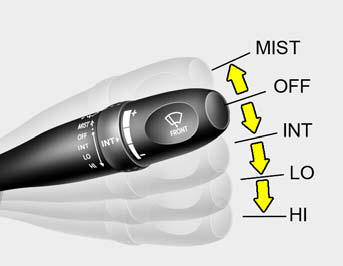 The windshield wiper switch has three positions:
A) Intermittent wiper operation B) Low-speed operation
C) High-speed operation
NOTE:
To prevent damage to the wiper system, do not attempt to wipe away heavy accumulations of snow or ice. Accumulated snow and ice should be removed manually. If there is only a light layer of snow or ice, operate the heater in the defrost mode to melt the snow or ice before using the wiper.
See also:
Smart key
With a smart key, you can lock or unlock a door (and trunk) and even start the engine without inserting the key. The functions of buttons on a smart key are similar to the remote keyless entry. ...
High-Corrosion Areas
If you live in an area where your car is regularly exposed to corrosive materials, corrosion protection is particularly important. Some of the common causes of accelerated corrosion are road salts ...
To Check the Coolant Level
The coolant level can be seen on the side of the plastic coolant reservoir. The level of the coolant should be between the "L" and "F" lines on the reservoir when the engin ...