Type A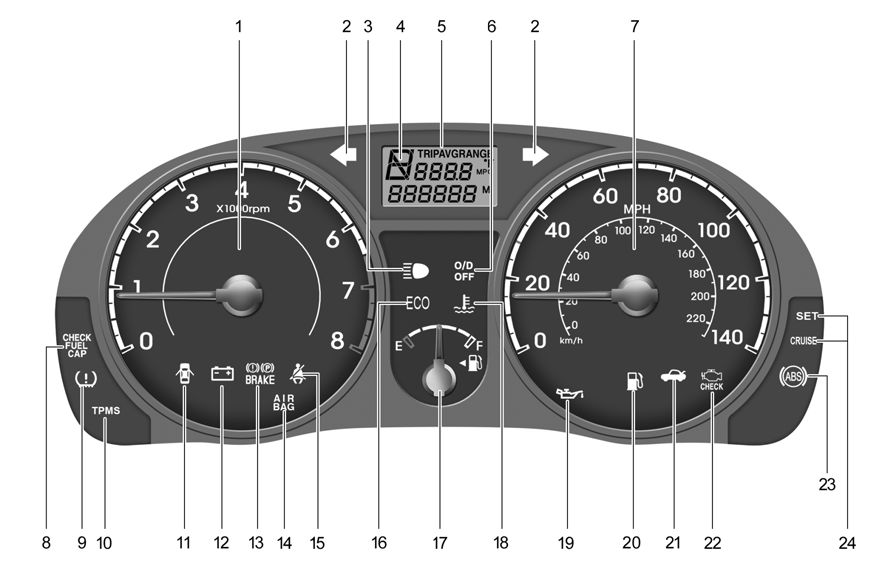 2. Turn Signal Indicator Lights 3. High Beam Indicator Light 4. Automatic Transaxle Position Indicator Light (If Installed) 5. Odometer/Trip Odometer/Trip Computer (If Installed) 6. Overdrive Off Indicator Light (Automatic transaxle only) 7. Speedometer
8. Check Fuel Cap Warning Light 9. Low Tire Pressure Telltale (If Installed) 10. TPMS (Tire Pressure Monitoring System) Malfunction Indicator (If Installed) 11. Door Ajar Warning Light 12. Charging System Warning Light 13. Parking Brake/Low Brake fluid Level Warning Light 14. SRS (Airbag) Warning Light 15. Seat Belt Warning Light 16. ECO Indicator (If Installed) 17. Fuel Gauge
18. Engine Coolant Temperature Warning Light 19. Low Oil Pressure Warning Light 20. Low Fuel Warning Light 21. Trunk Lid/Tail Gate Open Warning Light 22. Malfunction Indicator Light (MIL) 23. ABS Service Reminder Indicator Light (If Installed) 24. Cruise Control Indicator Lights (If Installed)
See also:
Interior
I have so much stuff to juggle when trying to get into any car: a purse, my kids' lunchboxes, swim bags, library books, dry cleaning, a bottle of water and more. This is why I'm such a fan of the ...
2010 Hyundai Genesis Coupe review By Kristin Varela
Before my two-week test drive of the 2010 Hyundai Genesis coupe, I had fantasies of becoming the top U.S. female drifter, Verena Mei, while sitting behind the Genesis coupe's steering wheel. It's ...
2012 Hyundai Elantra Review By Anthony Crawford
I've just driven a 42km loop in the base model Elantra Active with a six-speed manual shifter and I can tell you unequivocally that the all-new Elantra is a huge step up from the previous model. ...