Armed Stage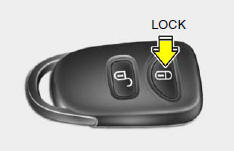 Park the car and stop the engine. Arm the system as described in the following paragraph.
1) Remove the ignition key from the ignition switch.
2) Make sure that all doors, tail gate (3 Door) and engine hood are closed and latched.
3) Lock the doors using the transmitter of the keyless entry system.
After completion of the steps above, the turn signal lights will blink once to indicate that the system is armed.
The system can be armed by locking the doors with the key from the front doors or tail gate (3 Door). However, the hazard warning lights are not operated.
NOTE:
If any door, tail gate (3 Door) or engine hood remains open, the system will not be armed. If this happens, rearm the system as described above.
CAUTION:
o Do not arm the system until all passengers have left the car. If the system is armed while a passenger(s) remains in the car, the alarm may be activated when the remaining passenger(s) leaves the car.
o If the "LOCK" button is pressed once more within 4 seconds after pushing the "LOCK" button on the transmitter, the alarming horn will sound once to indicate that the system is armed.
See also:
Use of lights
Check your lights regularly for correct operation and always keep them clean. When driving during the day in conditions of poor visibility, it is helpful to drive with headlights on low beam. This ...
HYUNDAI PACKAGING EFFICIENCY
The sleek design, combined with Hyundai's expertise in interior packaging, has produced an interior that delivers class-leading comfort, functionality and practicality. A sleek roofline typically ...
Track Performance
I had a chance to drive a four-cylinder and V-6 coupe on a track, and both coupes felt balanced through the corners, but their standard stability systems were frequently activated. I'm no pro driv ...