Armed Stage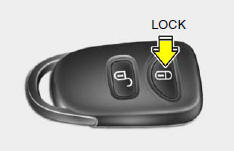 Park the car and stop the engine. Arm the system as described in the following paragraph.
1) Remove the ignition key from the ignition switch.
2) Make sure that all doors, tail gate (3 Door) and engine hood are closed and latched.
3) Lock the doors using the transmitter of the keyless entry system.
After completion of the steps above, the turn signal lights will blink once to indicate that the system is armed.
The system can be armed by locking the doors with the key from the front doors or tail gate (3 Door). However, the hazard warning lights are not operated.
NOTE:
If any door, tail gate (3 Door) or engine hood remains open, the system will not be armed. If this happens, rearm the system as described above.
CAUTION:
o Do not arm the system until all passengers have left the car. If the system is armed while a passenger(s) remains in the car, the alarm may be activated when the remaining passenger(s) leaves the car.
o If the "LOCK" button is pressed once more within 4 seconds after pushing the "LOCK" button on the transmitter, the alarming horn will sound once to indicate that the system is armed.
See also:
Starting
WARNING: Never run the engine in a closed or poorly ventilated area any longer than is needed to move your car in or out of the area. The carbon monoxide gas emitted is odorless and can cause s ...
Overdrive Switch
When the overdrive switch is turned on, the transaxle will automatically upshift to the second, third and overdrive gears. When the overdrive switch is turned off, the transaxle will not upshift ...
ABS Service Reminder Indicator (SRI) (If Installed)
When the key is turned to the "ON" position, the Anti-Lock Brake System SRI will come on and then go off in a few seconds. If the ABS SRI remains on, comes on while driving, or does no ...