Armed Stage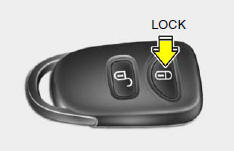 Park the car and stop the engine. Arm the system as described in the following paragraph.
1) Remove the ignition key from the ignition switch.
2) Make sure that all doors, tail gate (3 Door) and engine hood are closed and latched.
3) Lock the doors using the transmitter of the keyless entry system.
After completion of the steps above, the turn signal lights will blink once to indicate that the system is armed.
The system can be armed by locking the doors with the key from the front doors or tail gate (3 Door). However, the hazard warning lights are not operated.
NOTE:
If any door, tail gate (3 Door) or engine hood remains open, the system will not be armed. If this happens, rearm the system as described above.
CAUTION:
o Do not arm the system until all passengers have left the car. If the system is armed while a passenger(s) remains in the car, the alarm may be activated when the remaining passenger(s) leaves the car.
o If the "LOCK" button is pressed once more within 4 seconds after pushing the "LOCK" button on the transmitter, the alarming horn will sound once to indicate that the system is armed.
See also:
Changing the air cleaner filter
To change the filter, unsnap the clips around the cover. When this is done, the cover can be lifted off, the old filter removed and the new filter put in its place. Genuine Hyundai Replacement P ...
Service Requirements
To ensure that you receive the greatest number of miles of satisfying operation from your Hyundai, certain maintenance procedures must be performed. Although careful design and engineering have re ...
Steering gear box, linkage & boots/lower arm ball joint
With the vehicle stopped and engine off, check for excessive free-play in the steering wheel. Check the linkage for bends or damage. Check the dust boots and ball joints for deterioration, cracks, ...