Blade inspection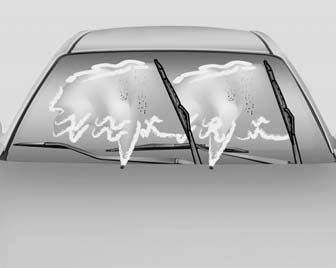 NOTICE
Commercial hot waxes applied by automatic car washes have been known to make the windshield difficult to clean.
Contamination of either the windshield or the wiper blades with foreign matter can reduce the effectiveness of the windshield wipers. Common sources of contamination are insects, tree sap, and hot wax treatments used by some commercial car washes. If the blades are not wiping properly, clean both the window and the blades with a good cleaner or mild detergent, and rinse thoroughly with clean water.
CAUTION
To prevent damage to the wiper blades, do not use gasoline, kerosene, paint thinner, or other solvents on or near them.
See also:
O/D OFF Indicator (Automatic Transaxle only)
When the overdrive switch is turned on, the overdrive off indicator will go out. This amber indicator will be illuminated when the overdrive switch is turned off. ...
Temperature control
The temperature control knob allows you to control the temperature of the air flowing from the ventilation system. To change the air temperature in the passenger compartment, turn the knob to th ...
Tire Balancing
A tire that is out of balance may affect handling and tire wear. The tires on your Hyundai were balanced before the car was delivered but may need balancing again during the years you own the car. ...