Digital clock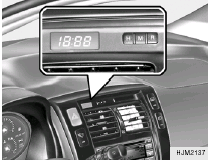 There are three control buttons for the digital clock. Their functions are:
HOUR
- Push "H" to advance the hour indicated.
MIN
- Push "M" to advance the minute indicated.
RESET
- Push "R" to reset minutes to ":00" to facilitate resetting the clock to the correct time.
When this is done:
Pressing "R" between 10 : 30 and 11 : 29 changes the readout to 11 : 00.
Pressing "R" between 11 : 30 and 12 : 29 changes the readout to 12 : 00.
Push the "R" button for 5 seconds to display a 12- or 24-hour clock (If installed).
See also:
Exterior
When you think subcompact, interesting design doesn't immediately come to mind. Look at cars like the Yaris, Fit and Nissan Versa, and you won't be wowed. Buyers in this segment have been basicall ...
Engine number
The engine number is stamped on the engine block as shown in the drawing. ...
Features
The problem with low-cost models like the Accent is that their low advertised price translates to few frills — or even basic amenities. Pricing for the 2010 models starts at the same low $9,970 pr ...