Changing a Flat Tire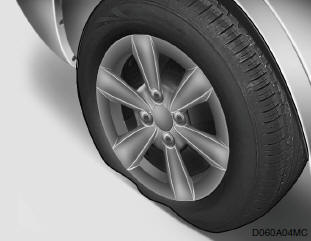 The procedure described on the following pages can be used to rotate tires as well as to change a flat tire. When preparing to change a flat tire, check to be sure the gear selector lever is in "P" (automatic) or reverse gear (manual transaxle) and that the parking brake is set, then:
See also:
Do not use methanol
Fuels containing methanol (wood alcohol) should not be used in your vehicle. This type of fuel can reduce vehicle performance and damage components of the fuel system. ...
Locking and Unlocking Front Doors with a Key
o The door can be locked or unlocked with a key. o Lock the door by turning the key toward the front of the vehicle and unlock it by turning the key toward the rear. NOTE: o The driver's do ...
Automatic Transaxle Fluid
The fluid level should be in the "HOT" range of the dipstick, after the engine and transaxle are at normal operating temperature. Check the automatic transaxle fluid level with the engine running ...