Blade inspection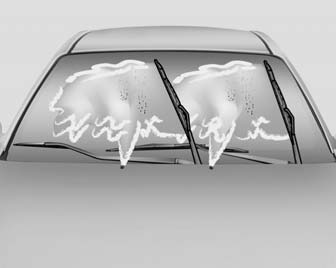 NOTICE
Commercial hot waxes applied by automatic car washes have been known to make the windshield difficult to clean.
Contamination of either the windshield or the wiper blades with foreign matter can reduce the effectiveness of the windshield wipers. Common sources of contamination are insects, tree sap, and hot wax treatments used by some commercial car washes. If the blades are not wiping properly, clean both the window and the blades with a good cleaner or mild detergent, and rinse thoroughly with clean water.
CAUTION
To prevent damage to the wiper blades, do not use gasoline, kerosene, paint thinner, or other solvents on or near them.
See also:
Checking the brake/clutch fluid level
Check the fluid level in the reservoir periodically. The fluid level should be between MAX and MIN marks on the side of the reservoir. Before removing the reservoir cap and adding brake/clutch fl ...
Replacing a Fusible Link
A fusible link will melt if the electrical circuits from the battery are ever overloaded, thus preventing damage to the entire wiring harness. (This could be caused by a short in the system draw ...
ECO Indicator (If Installed)
The ECO indicator is displayed to help you improve fuel efficiency when you are driving. o The ECO indicator (green) will turn on when you drive fuel efficiently in the ECO ON mode. If you don& ...