Highway driving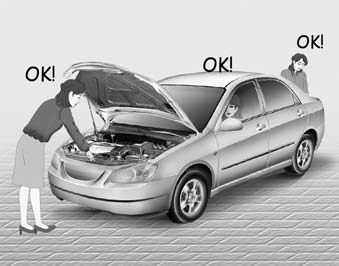 Tires
Adjust the tire inflation pressures to specification. Low tire inflation pressures will result in overheating and possible failure of the tires.
Avoid using worn or damaged tires which may result in reduced traction or tire failure.
NOTICE
Never exceed the maximum tire inflation pressure shown on the tires.
WARNING
• Underinflated or overinflated tires can cause poor handling, loss of vehicle control, and sudden tire failure leading to accidents, injuries, and even death. Always check tires for proper inflation before driving. For proper tire pressures, refer to "Tires and wheels" in section 8.
• Driving on tires with no or insufficient tread is dangerous. Wornout tires can result in loss of vehicle control, collisions, injury, and even death. Worn-out tires should be replaced as soon as possible and should never be used for driving. Always check the tire tread before driving your car. For further information and tread limits, refer to "Tires and wheels" in section 7.
Fuel, engine coolant and engine oil
High speed travel consumes more fuel than urban motoring. Do not forget to check both engine coolant and engine oil.
Drive belt
A loose or damaged drive belt may result in overheating of the engine.
See also:
Cruise Indicator (If Installed)
The indicator light illuminates when the cruise control system is enabled. The cruise indicator light in the instrument cluster is illuminated when the cruise control ON/OFF button on the steeri ...
FUN-TO-DRIVE
The 2010 Hyundai Tucson's athletic shape is now complemented with more agile handling, responsive steering and improved body roll control. These enhancements make the new Tucson more fun-to-drive. ...
EXTERIOR DESIGN
Not content to rest on their laurels, Hyundai's design team has sought to make a great Genesis exterior design even better for 2012. For the front view, the front grille has been enhanced, a more ...