Highway driving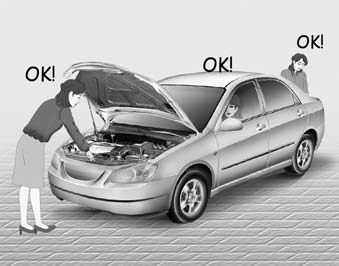 Tires
Adjust the tire inflation pressures to specification. Low tire inflation pressures will result in overheating and possible failure of the tires.
Avoid using worn or damaged tires which may result in reduced traction or tire failure.
NOTICE
Never exceed the maximum tire inflation pressure shown on the tires.
WARNING
• Underinflated or overinflated tires can cause poor handling, loss of vehicle control, and sudden tire failure leading to accidents, injuries, and even death. Always check tires for proper inflation before driving. For proper tire pressures, refer to "Tires and wheels" in section 8.
• Driving on tires with no or insufficient tread is dangerous. Wornout tires can result in loss of vehicle control, collisions, injury, and even death. Worn-out tires should be replaced as soon as possible and should never be used for driving. Always check the tire tread before driving your car. For further information and tread limits, refer to "Tires and wheels" in section 7.
Fuel, engine coolant and engine oil
High speed travel consumes more fuel than urban motoring. Do not forget to check both engine coolant and engine oil.
Drive belt
A loose or damaged drive belt may result in overheating of the engine.
See also:
Parking Brake/ Low Brake Fluid Level Warning Light
CAUTION: If you suspect brake trouble, have your brakes checked by a Hyundai dealer as soon as possible. Driving your car with a problem in either the brake electrical system or brake hydraulic ...
Traction control system (TCS)
(If installed) On slippery road surfaces, the traction control system (TCS) limits the drive wheels from spinning excessively, thus helping the car to accelerate. It also helps to provide suffic ...
Air bag warning label (if equipped)
Air bag warning labels, some required by the U.S. National Highway Traffic Safety Administration (NHTSA), are attached to alert the driver and passengers of potential risks of the air bag syst ...