Highway driving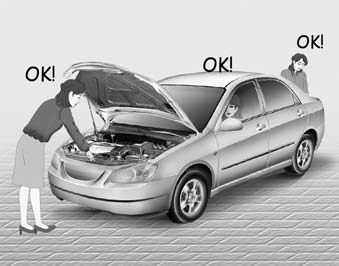 Tires
Adjust the tire inflation pressures to specification. Low tire inflation pressures will result in overheating and possible failure of the tires.
Avoid using worn or damaged tires which may result in reduced traction or tire failure.
NOTICE
Never exceed the maximum tire inflation pressure shown on the tires.
WARNING
• Underinflated or overinflated tires can cause poor handling, loss of vehicle control, and sudden tire failure leading to accidents, injuries, and even death. Always check tires for proper inflation before driving. For proper tire pressures, refer to "Tires and wheels" in section 8.
• Driving on tires with no or insufficient tread is dangerous. Wornout tires can result in loss of vehicle control, collisions, injury, and even death. Worn-out tires should be replaced as soon as possible and should never be used for driving. Always check the tire tread before driving your car. For further information and tread limits, refer to "Tires and wheels" in section 7.
Fuel, engine coolant and engine oil
High speed travel consumes more fuel than urban motoring. Do not forget to check both engine coolant and engine oil.
Drive belt
A loose or damaged drive belt may result in overheating of the engine.
See also:
Vehicle data collection and event data recorders
This vehicle is equipped with an event data recorder (EDR). The main purpose of an EDR is to record, in certain crash or near crash-like situations, such as an air bag deployment or hitting a road ...
WINDSHIELD WIPER BLADES
The wiper blades should be carefully inspected from time to time and cleaned to remove accumulations of road film or other debris. To clean the wiper blades and arms, use a clean sponge or cloth w ...
Lane Change Signal
To indicate a lane change, move the lever up or down to a point where it begins flashing. The lever will automatically return to the center position when released. ...