ESC operation
ESC ON condition
Х When the ignition is turned ON, ESC and ESC OFF indicator lights illuminate for approximately 3 seconds, then ESC is turned on.
Х Press the ESC OFF button for at least half a second after turning the ignition ON to turn ESC off. (ESC OFF indicator will illuminate). To turn the ESC on, press the ESC OFF button (ESC OFF indicator light will go off).
Х When starting the engine, you may hear a slight ticking sound. This is the ESC performing an automatic system self-check and does not indicate a problem.
When operating

When the ESC is in operation, ESC indicator light blinks.
Х When the Electronic Stability Control is operating properly, you can feel a slight pulsation in the vehicle. This is only the effect of brake control and indicates nothing unusual.
Х When moving out of the mud or driving on a slippery road, pressing the accelerator pedal may not cause the engine rpm (revolutions per minute) to increase.
ESC operation off

ESC OFF state
Х To cancel ESC operation, press the ESC OFF button (ESC OFF indicator light illuminates).
Х If the ignition switch is turned to LOCK position when ESC is off, ESC remains off. Upon restarting the engine, the ESC will automatically turn on again.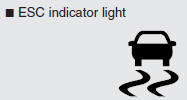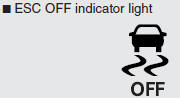 Indicator light
When ignition switch is turned to ON, the indicator light illuminates, then goes off if the ESC system is operating normally. The ESC indicator light blinks whenever ESC is operating or illuminates when ESC fails to operate.
The ESC OFF indicator light comes on when the ESC is turned off with the button.
CAUTION
Driving with varying tire or wheel sizes may cause the ESC system to malfunction. When replacing tires, make sure they are the same size as your original tires.
WARNING
The Electronic Stability Control system is only a driving aid; use precautions for safe driving by slowing down on curved, snowy, or icy roads. Drive slowly and donТt attempt to accelerate whenever the ESC indicator light is blinking, or when the road surface is slippery.
See also:
Bi-level heating
Your Hyundai is equipped with bi-level heating controls. To use this feature: o Set the air intake control to the fresh air () position. o Set the air flow control at the bi-level () position. ...
Checking drive belts
Drive belts should be checked periodically for proper tension and adjusted if necessary. At the same time, belts should be examined for cracks, wear, fraying or other evidence of deterioration a ...
Checking brake pedal clearance
You need a helper to check the brake pedal clearance. With the engine running, have your helper press down on the brake pedal several times and then hold it down with a force of about 110 lbs (5 ...