ESC operation
ESC ON condition
Х When the ignition is turned ON, ESC and ESC OFF indicator lights illuminate for approximately 3 seconds, then ESC is turned on.
Х Press the ESC OFF button for at least half a second after turning the ignition ON to turn ESC off. (ESC OFF indicator will illuminate). To turn the ESC on, press the ESC OFF button (ESC OFF indicator light will go off).
Х When starting the engine, you may hear a slight ticking sound. This is the ESC performing an automatic system self-check and does not indicate a problem.
When operating

When the ESC is in operation, ESC indicator light blinks.
Х When the Electronic Stability Control is operating properly, you can feel a slight pulsation in the vehicle. This is only the effect of brake control and indicates nothing unusual.
Х When moving out of the mud or driving on a slippery road, pressing the accelerator pedal may not cause the engine rpm (revolutions per minute) to increase.
ESC operation off

ESC OFF state
Х To cancel ESC operation, press the ESC OFF button (ESC OFF indicator light illuminates).
Х If the ignition switch is turned to LOCK position when ESC is off, ESC remains off. Upon restarting the engine, the ESC will automatically turn on again.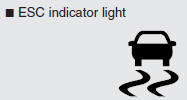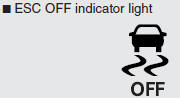 Indicator light
When ignition switch is turned to ON, the indicator light illuminates, then goes off if the ESC system is operating normally. The ESC indicator light blinks whenever ESC is operating or illuminates when ESC fails to operate.
The ESC OFF indicator light comes on when the ESC is turned off with the button.
CAUTION
Driving with varying tire or wheel sizes may cause the ESC system to malfunction. When replacing tires, make sure they are the same size as your original tires.
WARNING
The Electronic Stability Control system is only a driving aid; use precautions for safe driving by slowing down on curved, snowy, or icy roads. Drive slowly and donТt attempt to accelerate whenever the ESC indicator light is blinking, or when the road surface is slippery.
See also:
SAFETY
The 2011 Sonata has been named a Top Safety Pick by the Insurance Institute for Highway Safety. To earn this safety nod, a car must receive the top score of Good in front-, side-impact, rear and r ...
The Inside
The Santa Fe's all-new cabin is a big improvement over its predecessor's aging design. The Limited trim level had a number of unexpected details, like dual sunglass holders, a woven headliner, thi ...
SMALL ON THE OUTSIDE, BIG ON THE INSIDE
All Accents ride on a 101.2 inch wheelbase, 2.8-inches longer than the previous generation. The 66.9-inch width on all 2011 models increased by 0.2 inches for 2012. The Hyundai Accent 4-door's ove ...