Ignition switch position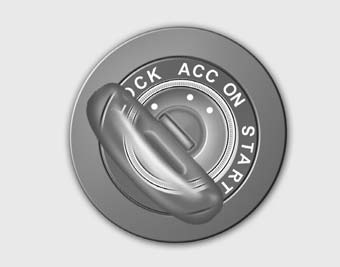 LOCK
Without the immobilizer
The steering wheel locks to protect against theft. The ignition key can be removed only in the LOCK position. When turning the ignition switch to the LOCK position, push the key inward at the ACC position and turn the key toward the LOCK position.
With the immobilizer
The ignition key can be removed only in the LOCK position.
ACC (Accessory)
Without the immobilizer
The steering wheel is unlocked and electrical accessories are operative.
NOTICE
If difficulty is experienced in turning the ignition switch to the ACC position, turn the key while turning the steering wheel right and left to release the tension.
With the immobilizer
The electrical accessories are operative.
START
Turn the ignition switch to the START position to start the engine. The engine will crank until you release the key; then it returns to the ON position. The brake warning lamp can be checked in this position.
WARNING - Ignition switch
Х Never turn the ignition switch to LOCK or ACC while the vehicle is moving. This would result in loss of directional control and braking function, which could cause an accident.
Х The anti-theft steering column lock is not a substitute for the parking brake. Before leaving the driverТs seat, always make sure the shift lever is engaged in P (Park) set the parking brake fully and shut the engine off. Unexpected and sudden vehicle movement may occur if these precautions are not taken.
Х Never reach for the ignition switch, or any other controls through the steering wheel while the vehicle is in motion. The presence of your hand or arm in this area could cause a loss of vehicle control, an accident and serious bodily injury or death.
Х Do not place any movable objects around the driverТs seat as they may move while driving, interfere with the driver and lead to an accident.
See also:
LUGGAGE NET
When loading the objects in the luggage compartment, use the four rings located in the luggage compartment to attach the luggage net as shown illustration. This will help prevent the objects f ...
Using a child restraint system
For safety reasons, we recommend that the child restraint system be used in the rear seats. WARNING Never place a rear-facing child restraint in the front passenger seat, because of the dang ...
Remote fuel-filter lid release
The fuel-filler lid may be opened from inside the vehicle by pulling up on the fuel-filler lid opener located on the front floor area on the left side of the vehicle. NOTE: If the fuel-filler l ...