Horn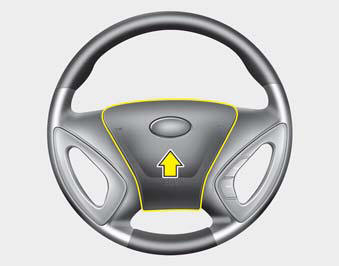 To sound the horn, press the horn symbol on your steering wheel.
Check the horn regularly to be sure it operates properly.
NOTICE
To sound the horn, press the area indicated by the horn symbol on your steering wheel (see illustration). The horn will operate only when this area is pressed.
CAUTION
Do not strike the horn severely to operate it, or hit it with your fist. Do not press on the horn with a sharppointed object.
See also:
2007 Hyundai Santa Fe review
If we were to pick the best redesigned SUVs for 2007, Hyundai's Santa Fe would be among the finalists. The overhaul gives new life to a model that was desperately in need of an update to stay comp ...
Blade inspection
NOTICE Commercial hot waxes applied by automatic car washes have been known to make the windshield difficult to clean. Contamination of either the windshield or the wiper blades with foreign mat ...
Use of E85 fuel
E85 fuel is an alternative fuel composed of 85 percent ethanol and 15 percent gasoline, and is manufactured for use in Flexible Fuel Vehicles. E85 is not compatible with your vehicle. Use of E85 m ...