Tilt steering
Tilt steering allows you to adjust the steering wheel before you drive. You can also raise it to give your legs more room when you exit and enter the vehicle.
The steering wheel should be positioned so that it is comfortable for you to drive, while permitting you to see the instrument panel warning lights and gauges.
WARNING
• Never adjust the angle of the steering wheel while driving. You may lose steering control and cause severe personal injury, death or accidents.
• After adjusting, push the steering wheel both up and down to be certain it is locked in position.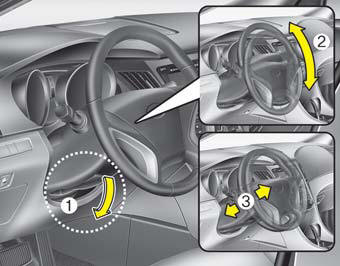 To change the steering wheel angle, pull down the lock release lever (1), adjust the steering wheel to the desired angle (2) and height (if equipped) (3), then pull up the lock-release lever to lock the steering wheel in place. Be sure to adjust the steering wheel to the desired position before driving.
See also:
Seat belts
SEAT BELT PRECAUTIONS WARNING: All occupants of the vehicle must wear their seat belts at all times. Seat belts and child restraints reduce the risk of serious or fatal injuries for all occupants ...
Tilting the Sunroof System
Auto tilt up To use the auto tilt feature, press the TILT UP button on the overhead console for more than 1 second. The sunroof will tilt all the way open. To stop the sunroof tilting at any po ...
Checking the free-play
STEERING WHEEL To check the steering wheel free-play, stop the car with the wheels pointed straight ahead and gently move the steering wheel back and forth. Use very light finger pressure and be ...