Air bag warning light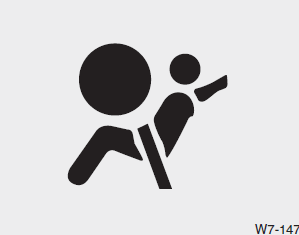 The purpose of air bag warning light in your instrument panel is to alert you of a potential problem with your air bag - Supplemental Restraint System (SRS).
When the ignition switch is turned ON, the indicator light should illuminate for approximately 6 seconds, then go off. Have the system checked if:
Х The light does not turn on briefly when you turn the ignition ON.
Х The light stays on after illuminating for approximately 6 seconds.
Х The light comes on while the vehicle is in motion.
Х The light blinks when the ignition switch is in ON position.
See also:
Interior
I have so much stuff to juggle when trying to get into any car: a purse, my kids' lunchboxes, swim bags, library books, dry cleaning, a bottle of water and more. This is why I'm such a fan of the ...
Vehicle Identification Number (VIN)
The vehicle identification number (VIN) is the number used in registering your car and in all legal matters pertaining to its ownership, etc. It can be found in four different places on yo ...
Fuel Filter
A clogged filter can limit the speed at which the vehicle may be driven, damage the emission system and cause hard starting. If an excessive amount of foreign matter accumulates in the fuel tank, ...