Engine compartment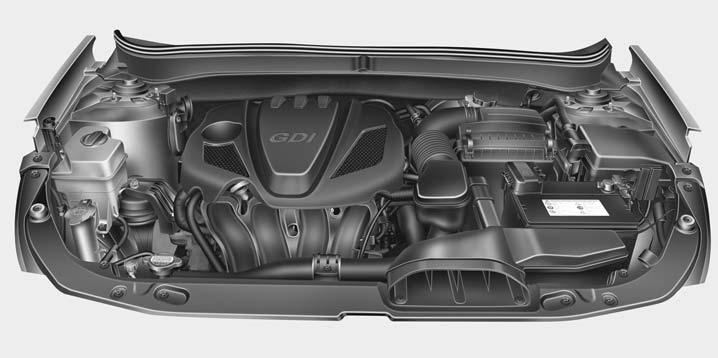 Engine coolant reservoir
Engine oil filler cap
Brake/clutch fluid reservoir
Air cleaner
Fuse box
Positive battery terminal
Negative battery terminal
Windshield washer fluid reservoir
Radiator cap
Engine oil dipstick
See also:
Wheel Cap
1. Wrap a piece of cloth around the tip of the flat-head screwdriver to avoid scratching. 2. Insert the flat-head screwdriver into the notch of the wheel cap and pry gently to remove the wheel ...
If Engine Doesn't Turn Over or Turns Over Slowly
1. If your car has an automatic transaxle, be sure the gear selector lever is in "N" or "P" and the emergency brake is set. 2. Check the battery connections to be sure they ar ...
HEATING AND VENTILATION
1. Temperature control 2. Air conditioning switch (If Installed) 3. Air intake control switch 4. Air flow control 5. Fan speed control Fan Speed Control This is used to turn the blower fan o ...