Tire rotation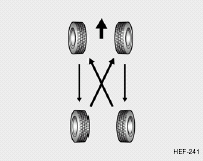 Tires should be rotated every 7,500 miles (12,000 km). If you notice that tires are wearing unevenly between rotations, have the car checked by a Hyundai dealer so the cause may be corrected.
After rotating, adjust the tire pressures and be sure to check wheel nut torque.
CAUTION:
Do not mix bias-ply and radial-ply under any circumstances. This may cause dangerous handling characteristics.
See also:
Vapor hose and fuel filler cap
The vapor hose and fuel filler cap should be inspected at those intervals specified in the maintenance schedule. Make sure that a new vapor hose or fuel filler cap is correctly replaced. ...
Don't Let Ice and Snow Accumulate Underneath
Under some conditions, snow and ice can build up under the fenders and interfere with the steering. When driving in severe winter conditions where this may happen, you should periodically check un ...
Adding Oil
If the oil level is close to or below the "L" mark, add oil until it reaches the "F" mark. To add oil: 1. Remove the oil filler cap by turning it counterclockwise. 2. Add oil ...