Engine number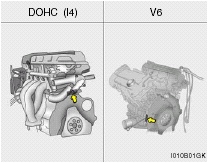 The engine number is stamped on the engine block as shown in the drawing.
See also:
Spark Plugs
Make sure to install new spark plugs of the correct heat range. ...
Exhaust pipe and muffler
Visually inspect the exhaust pipes, muffler and hangers for cracks, deterioration, or damage. Start the engine and listen carefully for any exhaust gas leakage. Tighten connections or replace part ...
Closing the trunk
To close the trunk, lower the trunk lid, then press down on it until it locks. To be sure the trunk lid is securely fastened, always check by trying to pull it up again. WARNING The trunk lid sh ...