Checking the transaxle oil (manual)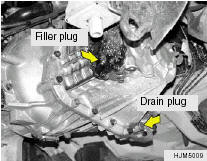 Transaxle lubricant in the manual transaxle should be checked at those intervals specified in the vehicle maintenance schedule in Section 5.
Recommended Oil
Use only HYUNDAI GENUINE PARTS MTF 75W/85 (API GL-4) or EQUIVALENT in the manual transaxle.
Manual Transaxle Oil Capacity
The oil capacity of the manual transaxle is 2.2 U.S. quarts (2.1 liters).
WARNING:
It is always better to check the transaxle oil level when the engine is cool or cold. If the engine is hot, you should exercise great caution to avoid burning yourself on hot engine or exhaust parts.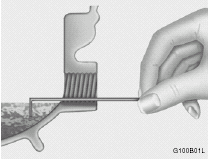 To Check the Manual Transaxle Fluid Level
Park the car on level ground with the engine off.
1. Using a wrench of the correct size, loosen the oil filler plug by turning it counterclockwise and remove it with your fingers.
2. Use your finger or suitable tool to feel inside the hole. The oil level should be at its bottom edge. If it is not, check for leaks before adding oil. To refill the transaxle or bring the oil level up,add oil slowly until it reaches the proper level. Do not overfill.
3. Replace the plug and washer, screw it in with your fingers and then tighten securely with the wrench.
See also:
Checking the amount of air conditioner refrigerant and compressor lubricant
When the amount of refrigerant is low, the performance of the air conditioning is reduced. Overfilling also has a negative influence on the air conditioning system. Therefore, if abnormal operatio ...
Storage compartments
These compartments can be used to store small items. CAUTION • To avoid possible theft, do not leave valuables in the storage compartments. • Always keep the storage compartment covers closed while ...
Automatic-dimming function
Your mirror will automatically dim upon detecting glare from the vehicles traveling behind you. The auto-dimming function can be controlled by the Dimming ON/OFF Button: 1. Pressing the button turn ...