Checking the transaxle oil (manual)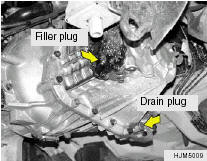 Transaxle lubricant in the manual transaxle should be checked at those intervals specified in the vehicle maintenance schedule in Section 5.
Recommended Oil
Use only HYUNDAI GENUINE PARTS MTF 75W/85 (API GL-4) or EQUIVALENT in the manual transaxle.
Manual Transaxle Oil Capacity
The oil capacity of the manual transaxle is 2.2 U.S. quarts (2.1 liters).
WARNING:
It is always better to check the transaxle oil level when the engine is cool or cold. If the engine is hot, you should exercise great caution to avoid burning yourself on hot engine or exhaust parts.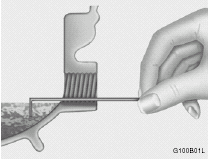 To Check the Manual Transaxle Fluid Level
Park the car on level ground with the engine off.
1. Using a wrench of the correct size, loosen the oil filler plug by turning it counterclockwise and remove it with your fingers.
2. Use your finger or suitable tool to feel inside the hole. The oil level should be at its bottom edge. If it is not, check for leaks before adding oil. To refill the transaxle or bring the oil level up,add oil slowly until it reaches the proper level. Do not overfill.
3. Replace the plug and washer, screw it in with your fingers and then tighten securely with the wrench.
See also:
2012 Hyundai Elantra review By Steven Cole Smith
Just as Hyundai did with the new Sonata -- which matches and in many ways surpasses its top competition in the midsized category, the Honda Accord and Toyota Corolla -- the Korean company is hopin ...
To cancel cruise control, do one of the following
o Press the brake pedal. o Press the clutch pedal with a manual transaxle. o Shift into N (Neutral) with an automatic transaxle. o Press the CANCEL switch located on the steering wheel. o Decrea ...
Sonata Hybrid in the Market
Hyundai's first hybrid is impressive in almost every way. I certainly wish it drove better in its thriftiest mode, which owners of competing hybrids generally use. However, in nearly every other a ...