Steering wheel tilt lever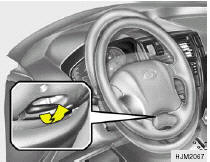 To Adjust the Steering Wheel:
1. Push the lever downward to unlock.
2. Raise or lower the steering wheel to the desired position.
3. After adjustment, securely tighten the lever by pulling it upward.
WARNING:
Do not attempt to adjust the steering wheel while driving as this may result in loss of control of the vehicle which may cause serious injury or death.
See also:
Closing the fuel filler lid
1. To install the cap, turn it clockwise until it "click". This indicates that the cap is securely tightened. 2. Close the fuel filler lid and push it in lightly making sure that it is securely c ...
Driving for Economy
You can save fuel and get more miles from your car if you follow these suggestions: o Drive smoothly. Accelerate at a moderate rate. Don't make "jack-rabbit" starts or full-throttle s ...
2. Evaporative emission control (including ORVR: Onboard Refueling Vapor Recovery) system
The Evaporative Emission Control System is designed to prevent fuel vapors from escaping into the atmosphere. (The ORVR system is designed to allow the vapors from the fuel tank to be loaded into ...