Steering wheel tilt lever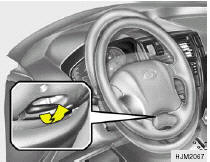 To Adjust the Steering Wheel:
1. Push the lever downward to unlock.
2. Raise or lower the steering wheel to the desired position.
3. After adjustment, securely tighten the lever by pulling it upward.
WARNING:
Do not attempt to adjust the steering wheel while driving as this may result in loss of control of the vehicle which may cause serious injury or death.
See also:
Electronic stability control (ESC) system
(If installed) WARNING: Never drive too fast for the road conditions or too quickly when cornering. Electronic stability control (ESC) will not prevent accidents. Excessive speed in turns, abrupt ...
2010 Hyundai Genesis Coupe review by Jim Mateja
The 2009 Hyundai Genesis sedan surprised many when it captured the North American Car of the Year award from the nation's automotive wordsmiths. Hyundai had won a loyal, if limited, following in t ...
Don't Let Your Parking Brake Freeze
Under some conditions your parking brake can freeze in the engaged position. This is most likely to happen when there is an accumulation of snow or ice around or near the rear brakes or if the bra ...