Sun visor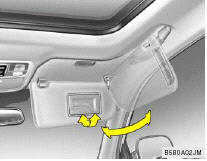 Sun visor
Your Hyundai is equipped with sun visors to give the driver and front passenger either frontal or sideward shade. To reduce glare or to shut out direct rays of the sun, turn the sun visor down.
A vanity mirror is provided on the back of the sun visor for the driver and front passenger.
NOTE:
The Supplemental Restraint System (SRS) label containing useful information can be found on the back of each sun visor.
WARNING:
Do not place the sun visor in such a manner that it obscures visibility of the roadway, traffic or other objects.
Illuminated Vanity Mirror (If installed)
Opening the lid of the vanity mirror will automatically turn on the mirror light.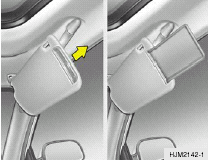 SUN VISOR EXTENDER
Your vehicle is equipped with sun visor extenders that may be used when the visor is in the side glass position.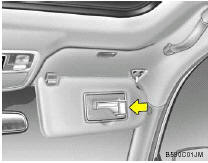 TICKET HOLDER
The ticket holder is provided on the front of the sun visor for holding a tollgate ticket.
See also:
If the engine overheats
If your temperature gauge indicates overheating, you experience a loss of power, or hear loud pinging or knocking, the engine is probably too hot. If this happens, you should: 1. Pull off the roa ...
Windshield wiper blades
The wiper blades should be carefully inspected from time to time and cleaned to remove accumulations of road film or other debris. To clean the wiper blades and arms, use a clean sponge or cloth ...
Towing service
recommend having it done by an authorized Hyundai dealer or a commercial tow-truck service. Proper lifting and towing procedures are necessary to prevent damage to the vehicle. The use of wheel ...