Floor mat anchor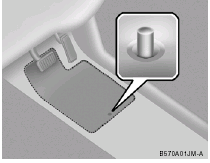 Floor mat anchor
When using a floor mat on the front floor carpet, make sure it attaches to the floor mat anchor in your vehicle. This keeps the floor mat from sliding forward.
WARNING:
o Make sure the floor mat is properly placed on the floor carpet. If the floor mat slips and interferes with the movement of the pedals during driving, it may cause an accident.
o Don't put an additional floor mat on the top of the anchored floor mat, otherwise the additional mat may slide forward and interfere with the movement of the pedals.
See also:
Rear Brake Drums/Linings, Parking Brake
Check the rear brake drums and linings for scoring, burning, leaking fluid, broken parts, and excessive wear. Inspect the parking brake system including the parking brake lever and cables. For det ...
Do not operate the engine within the tachometer's RED ZONE. This may cause severe engine damage.
Engine temperature gauge This gauge shows the temperature of the engine coolant when the ignition switch is ON. Do not continue driving with an overheated engine. If your vehicle overheats, re ...
Disarmed stage
Using the smart key The system will be disarmed when the doors are unlocked by pressing the unlock button on the smart key or pressing the lock/unlock button of the front outside door handle with ...