Floor mat anchor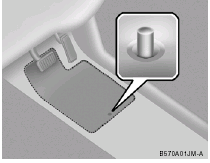 Floor mat anchor
When using a floor mat on the front floor carpet, make sure it attaches to the floor mat anchor in your vehicle. This keeps the floor mat from sliding forward.
WARNING:
o Make sure the floor mat is properly placed on the floor carpet. If the floor mat slips and interferes with the movement of the pedals during driving, it may cause an accident.
o Don't put an additional floor mat on the top of the anchored floor mat, otherwise the additional mat may slide forward and interfere with the movement of the pedals.
See also:
Vacuum crankcase ventilation hoses
Inspect the surface of hoses for evidence of heat and/or mechanical damage. Hard and brittle rubber, cracking, tears, cuts, abrasions, and excessive swelling indicate deterioration. Particular att ...
2011 Hyundai Sonata review by Sherrice Gilsbach
The 2011 Hyundai Sonata is a solid family sedan that offers gorgeous exterior styling and impressive gas mileage, but it lacks expressive drive-feel and is low on the fun factor. For many folks, g ...
Keep Your Car Clean
The best way to prevent corrosion is to keep your car clean and free of corrosive materials. Attention to the underside of the car is particularly important. o If you live in a high-corrosion area ...