Floor mat anchor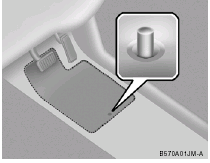 Floor mat anchor
When using a floor mat on the front floor carpet, make sure it attaches to the floor mat anchor in your vehicle. This keeps the floor mat from sliding forward.
WARNING:
o Make sure the floor mat is properly placed on the floor carpet. If the floor mat slips and interferes with the movement of the pedals during driving, it may cause an accident.
o Don't put an additional floor mat on the top of the anchored floor mat, otherwise the additional mat may slide forward and interfere with the movement of the pedals.
See also:
Don't Neglect the Interior
Moisture can collect under the floor mats and carpeting to cause corrosion. Check under the mats periodically to be sure the carpeting is dry. Use particular care if you carry fertilizers, cleanin ...
AUX, USB AND iPod® PORT
If your vehicle has an aux and/or USB(universal serial bus) port or iPod port, you can use an aux port to connect audio devices, a USB port to plug in a USB, and an iPod port to plug in an iPod. ...
Keep Your Garage Dry
Don't park your car in a damp, poorly ventilated garage. This creates a favorable environment for corrosion. This is particularly true if you wash your car in the garage or drive it into the g ...