Floor mat anchor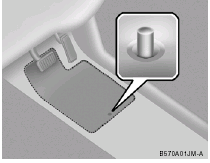 Floor mat anchor
When using a floor mat on the front floor carpet, make sure it attaches to the floor mat anchor in your vehicle. This keeps the floor mat from sliding forward.
WARNING:
o Make sure the floor mat is properly placed on the floor carpet. If the floor mat slips and interferes with the movement of the pedals during driving, it may cause an accident.
o Don't put an additional floor mat on the top of the anchored floor mat, otherwise the additional mat may slide forward and interfere with the movement of the pedals.
See also:
Fuse panel description
Engine Compartment NOTE: Not all fuse panel descriptions in this manual may be applicable to your vehicle. It is accurate at the time of printing. When you inspect the fuse box on your vehicl ...
To temporarily accelerate with the cruise control on
If you want to speed up temporarily when the cruise control is on, depress the accelerator pedal. Increased speed will not interfere with cruise control operation or change the set speed. To retu ...
Driving in the rain
Rain and wet roads can make driving dangerous, especially if you're not prepared for the slick pavement. Here are a few things to consider when driving in the rain: • A heavy rainfall will make it ...