Roof rack
(If installed)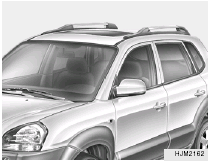 If your Hyundai has a roof rack, you can load things on top of your vehicle. Crossrails and fixing components to adapt the roof rack on your vehicle may be obtained from an authorized Hyundai dealer.
CAUTION:
o In case a sunroof is installed, do not position roof rack loads that could interfere with opening of the sunroof.
o The following specifications are recommended when loading cargo or luggage.
CAUTION:
ROOF RACK 165 lbs (75 kg) Evenly Distributed o Loading cargo or luggage above 165 lbs (75 kg) on the roof rack may damage your vehicle.
When you carry large objects, never let them hang over the rear or the sides of your vehicle.
o To prevent damage or loss of cargo as you are driving, check frequently to make sure the luggage carrier and cargo are still securely fastened.
o Always drive your vehicle at a moderate speed.
o To use the roof rails as a roof rack, you must fit the roof rails with two or more crossrails or equivalent before carrying cargo or luggage on the roof.
o Loading cargo or luggage exceeding the specification on the roof rack may reduce the stability of your vehicle.
o Do not allow cargo loads to rest directly on the roof of your article; cross rails must be used.
See also:
To Check the Coolant Level
The coolant level can be seen on the side of the plastic coolant reservoir. The level of the coolant should be between the "L" and "F" lines on the reservoir when the engin ...
Automatic Transaxle Fluid
The fluid level should be in the "HOT" range of the dipstick, after the engine and transaxle are at normal operating temperature. Check the automatic transaxle fluid level with the engine running ...
Vehicle load limit
Tire and Loading Information Label Type A Type B Type C The tire label located on the driver's side of the center pillar outer panel gives the original tire size, cold tire pressures reco ...