Glove box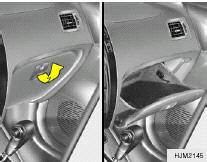 o To open the glove box, pull on the glove box release lever.
o The glove box door can be locked (and unlocked) with the key. (If installed)
WARNING:
To avoid the possibility of injury in case of an accident or a sudden stop, the glove box door should be kept closed when the car is in motion.
Illuminated Glove Box (If installed)
Opening the glove box will automatically turn on the light when the multi-function switch is turned to the first/second position.