Cigarette lighter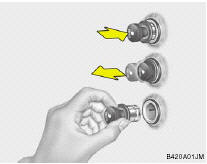 For the cigarette lighter to work, the key must be in the "ACC" position or the "ON" position.
To use the cigarette lighter, push it all the way into its socket. When the element has heated, the lighter will pop out to the "ready" position.
Do not hold the cigarette lighter pressed in. This can damage the heating element and create a fire hazard.
If it is necessary to replace the cigarette lighter, use only a genuine Hyundai replacement or its approved equivalent.
See also:
Power outlet
The power outlet is designed to provide power for mobile telephones or other devices designed to operate with vehicle electrical systems. The devices should draw less than 10 amps with the engin ...
Don't Let Ice and Snow Accumulate Underneath
Under some conditions, snow and ice can build up under the fenders and interfere with the steering. When driving in severe winter conditions where this may happen, you should periodically check un ...
40 MPG - AN 18 PERCENT IMPROVEMENT IN FUEL ECONOMY
The 2012 Hyundai Accent's highway fuel economy of 40 mpg is an 18 percent improvement over its predecessor's 34 mpg highway manual transmission fuel economy rating. Hyundai Accent's fuel economy ...