Cigarette lighter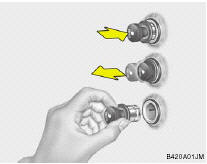 For the cigarette lighter to work, the key must be in the "ACC" position or the "ON" position.
To use the cigarette lighter, push it all the way into its socket. When the element has heated, the lighter will pop out to the "ready" position.
Do not hold the cigarette lighter pressed in. This can damage the heating element and create a fire hazard.
If it is necessary to replace the cigarette lighter, use only a genuine Hyundai replacement or its approved equivalent.
See also:
TPMS (Tire Pressure Monitoring System) Malfunction Indicator (If Installed)
TPMS malfunction indicator comes on for 3 seconds after the ignition key is turned to the "ON" position. If the warning light does not come on, or continuously remains on after comming ...
Air intake control
This is used to select outside (fresh) air position or recirculated air position. To change the air intake control position, push the control button. Recirculated air position ...
Adjusting the height up and down
To raise the headrest, pull it up to the desired position (1). To lower the headrest, push and hold the release button (2) on the headrest support and lower the headrest to the desired position ...