Cigarette lighter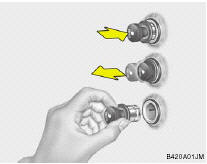 For the cigarette lighter to work, the key must be in the "ACC" position or the "ON" position.
To use the cigarette lighter, push it all the way into its socket. When the element has heated, the lighter will pop out to the "ready" position.
Do not hold the cigarette lighter pressed in. This can damage the heating element and create a fire hazard.
If it is necessary to replace the cigarette lighter, use only a genuine Hyundai replacement or its approved equivalent.
See also:
Luggage Compartment Light
1. Open the trunk lid (4 Door) or tail gate (3 Door). 2. Carefully remove the cover with a flathead screwdriver. 3. Replace with a new bulb. ...
Impact sensing door unlock system (if equipped)
All doors will be automatically unlocked when the impact is delivered to impact sensors while the ignition switch is ON. However, the doors may not be unlocked if mechanical problems occur with the ...
Keys
For greater convenience, the same key operates all the locks in your Hyundai. However, because the doors can be locked without a key, carrying a spare key is recommended in case you accidentally ...