Cigarette lighter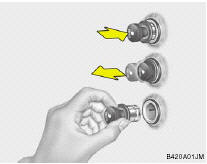 For the cigarette lighter to work, the key must be in the "ACC" position or the "ON" position.
To use the cigarette lighter, push it all the way into its socket. When the element has heated, the lighter will pop out to the "ready" position.
Do not hold the cigarette lighter pressed in. This can damage the heating element and create a fire hazard.
If it is necessary to replace the cigarette lighter, use only a genuine Hyundai replacement or its approved equivalent.
See also:
When to replace tires
The original tires on your car have tread wear indicators . The location of tread wear indicators is shown by the "TWI" or "" marks, etc., The tread wear indicators appear wh ...
Handling the Spare Tire
Remove the installation bolt to remove the spare tire. To replace the spare tire in its storage compartment, tighten the bolt firmly with your fingers until there is no more play in the spare ti ...
Put the Jack in Place
The base of the jack should be placed on firm, level ground. The jack should be positioned as shown in the drawing. ...