Cigarette lighter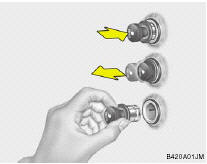 For the cigarette lighter to work, the key must be in the "ACC" position or the "ON" position.
To use the cigarette lighter, push it all the way into its socket. When the element has heated, the lighter will pop out to the "ready" position.
Do not hold the cigarette lighter pressed in. This can damage the heating element and create a fire hazard.
If it is necessary to replace the cigarette lighter, use only a genuine Hyundai replacement or its approved equivalent.
See also:
Smart key functions
Carrying the smart key, you may lock and unlock the vehicle doors. Also, you may start the engine. Refer to the following, for more details. ...
SRS Components and Functions
The SRS consists of the following components: 1. Front Impact Sensor 2. "PASSENGER AIR BAG OFF" Indicator (Front passenger's seat only) 3. SRS "AIR BAG" warning light 4. ...
Review: 2012 Hyundai Accent GLS Sedan
The Hyundai Accent has never been a Уgotta have itФ sort of car. Instead, itТs been a УwhatТs the cheapest thing you got?Ф sort of car. The 2011 started at just $9,985 (plus shipping and handling) ...