Cigarette lighter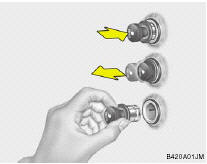 For the cigarette lighter to work, the key must be in the "ACC" position or the "ON" position.
To use the cigarette lighter, push it all the way into its socket. When the element has heated, the lighter will pop out to the "ready" position.
Do not hold the cigarette lighter pressed in. This can damage the heating element and create a fire hazard.
If it is necessary to replace the cigarette lighter, use only a genuine Hyundai replacement or its approved equivalent.
See also:
2. Evaporative emission control (including ORVR: Onboard Refueling Vapor Recovery) system
The Evaporative Emission Control System is designed to prevent fuel vapors from escaping into the atmosphere. (The ORVR system is designed to allow the vapors from the fuel tank to be loaded into ...
HEATING AND VENTILATION
1. Temperature control 2. Air conditioning switch (If Installed) 3. Air intake control switch 4. Air flow control 5. Fan speed control Fan Speed Control This is used to turn the blower fan o ...
Spectacle case
(If Installed) The spectacle case is located on the front overhead console. Push the end of the cover to open the spectacle case. WARNING: Do not keep objects except spectacle inside the spec ...