Cigarette lighter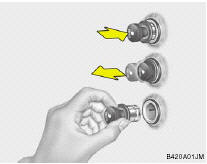 For the cigarette lighter to work, the key must be in the "ACC" position or the "ON" position.
To use the cigarette lighter, push it all the way into its socket. When the element has heated, the lighter will pop out to the "ready" position.
Do not hold the cigarette lighter pressed in. This can damage the heating element and create a fire hazard.
If it is necessary to replace the cigarette lighter, use only a genuine Hyundai replacement or its approved equivalent.
See also:
Maintenance Precautions
Improper or incomplete service may result in problems. This section gives instructions only for the maintenance items that are easy to perform. Several procedures should be done by an authorized Hy ...
Service Requirements
To ensure that you receive the greatest number of miles of satisfying operation from your Hyundai, certain maintenance procedures must be performed. Although careful design and engineering have re ...
Climate control air filter
The climate control air filter installed behind the glove box filters the dust or other pollutants that come into the vehicle from the outside through the heating and air conditioning system. If ...