Cigarette lighter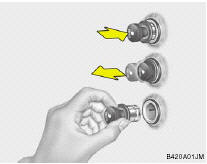 For the cigarette lighter to work, the key must be in the "ACC" position or the "ON" position.
To use the cigarette lighter, push it all the way into its socket. When the element has heated, the lighter will pop out to the "ready" position.
Do not hold the cigarette lighter pressed in. This can damage the heating element and create a fire hazard.
If it is necessary to replace the cigarette lighter, use only a genuine Hyundai replacement or its approved equivalent.
See also:
High-mounted rear stop light
In addition to the lower-mounted rear stoplights on either side of the car, the high mounted rear stoplight in the center of the rear window also lights when the brakes are applied. ...
HEIGHT ADJUSTABLE FRONT SEAT SHOULDER BELT
You can adjust the height of the shoulder belt anchor to one of the 4 positions for maximum comfort and safety. If the height of the seat belt is too near your neck, you will not be getting the ...
Specified Scheduled Procedures
These are the procedures such as inspections, adjustments and replacements that are listed in the maintenance charts starting on page 5-4. These procedures must be performed at the intervals shown ...