Instrument panel light control (rheostat)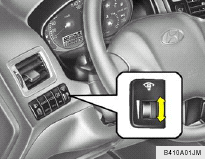 The instrument panel lights can be made brighter or dimmer by turning the instrument panel light control knob.
See also:
Tire terminology and definitions
Air Pressure: The amount of air inside the tire pressing outward on the tire. Air pressure is expressed in pounds per square inch (psi) or kilopascal (kPa). Accessory Weight: This means the combine ...
Washing Your Hyundai
Never wash your car when the surface is hot from being in the sun. Always wash your car in the shade. Wash your car frequently. Dirt is abrasive and can scratch the paint if it is not removed. Ai ...
2010 Hyundai Tucson review by By Scott Burgess
It has spent nearly two decades repairing and then polishing its reputation. In the past, critics, including myself, have accused it of copying designs and then dulling them up. Some vehicles had ...