Instrument panel light control (rheostat)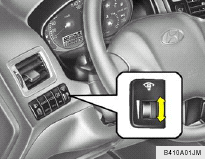 The instrument panel lights can be made brighter or dimmer by turning the instrument panel light control knob.
See also:
Replacement of Light Bulbs
Before attempting to replace a light bulb, be sure the switch is turned to the "OFF" position. The next paragraph shows how to reach the light bulbs so they may be changed. Be sure to r ...
Checking and Changing the Engine Coolant
WARNING: Do not remove the radiator cap when the engine is hot. When the engine is hot, the engine coolant is under pressure and may erupt through the opening if the cap is removed. You could be ...
If you have a flat tire
If a tire goes flat while you are driving: 1. Take your foot off the accelerator pedal and let the car slow down while driving straight ahead. Do not apply the brakes immediately or attempt to pu ...