Checking the Battery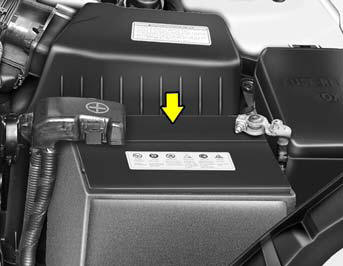 WARNING:
Batteries can be dangerous! When working with batteries, carefully observe the following precautions to avoid serious injuries.
The fluid in the battery contains a strong solution of sulfuric acid, which is poisonous and highly corrosive. Be careful not to spill it on yourself or the car. If you do spill battery fluid on yourself, immediately do the following:
o If battery fluid is on your skin, flush the affected areas with water for at least 15 minutes and then seek medical assistance.
o If battery fluid is in your eyes, rinse out your eyes with water and get medical assistance as soon as possible. While you are being driven to get medical assistance, continue to rinse your eyes by using a sponge or soft cloth saturated with water.
o If you swallow battery fluid, drink a large quantity of water or milk followed by milk of magnesia, eat a raw egg or drink vegetable oil. Get medical assistance as soon as possible.
While batteries are being charged (either by a battery charger or by the vehicle's alternator), they produce explosive gases. Always observe these warnings to prevent injuries from occurring:
o Charge batteries only in a well ventilated area.
o Do not permit flames, sparks or smoking in the area.
o Keep children away from the area.
See also:
Handling the Spare Tire
Remove the installation bolt to remove the spare tire. To replace the spare tire in its storage compartment, tighten the bolt firmly with your fingers until there is no more play in the spare ti ...
Use high quality ethylene glycol coolant
Your vehicle is delivered with high quality ethylene glycol coolant in the cooling system. It is the only type of coolant that should be used because it helps prevent corrosion in the cooling syst ...
ADVANCED TECHNOLOGY FOR SUPERIOR FUEL ECONOMY
The 2012 Hyundai Accent's all-aluminum 1.6-liter Gamma four-cylinder engine utilizes the latest engine technology to deliver a class-leading 138 horsepower and 123 lb-ft of torque and a best-in-cl ...