Checking the Battery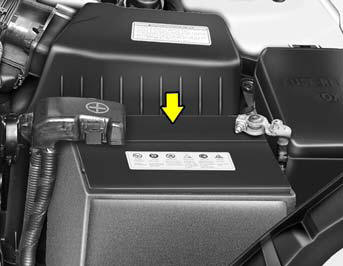 WARNING:
Batteries can be dangerous! When working with batteries, carefully observe the following precautions to avoid serious injuries.
The fluid in the battery contains a strong solution of sulfuric acid, which is poisonous and highly corrosive. Be careful not to spill it on yourself or the car. If you do spill battery fluid on yourself, immediately do the following:
o If battery fluid is on your skin, flush the affected areas with water for at least 15 minutes and then seek medical assistance.
o If battery fluid is in your eyes, rinse out your eyes with water and get medical assistance as soon as possible. While you are being driven to get medical assistance, continue to rinse your eyes by using a sponge or soft cloth saturated with water.
o If you swallow battery fluid, drink a large quantity of water or milk followed by milk of magnesia, eat a raw egg or drink vegetable oil. Get medical assistance as soon as possible.
While batteries are being charged (either by a battery charger or by the vehicle's alternator), they produce explosive gases. Always observe these warnings to prevent injuries from occurring:
o Charge batteries only in a well ventilated area.
o Do not permit flames, sparks or smoking in the area.
o Keep children away from the area.
See also:
Multi-function light switch
COMBINATION TURN SIGNAL, HEADLIGHT AND HIGH-BEAM SWITCH Turn Signal Operation Pulling down on the lever causes the turn signals on the left side of the car to blink. Pushing upwards on the lever c ...
Windshield Wiper
The windshield wiper switch has three positions: A) Intermittent wiper operation B) Low-speed operation C) High-speed operation NOTE: To prevent damage to the wiper system, do not attempt to wi ...
Placing a passenger seat belt into the automatic locking mode
The automatic locking mode will help prevent the normal movement of the child in the vehicle from causing the seat belt to loosen and compromise the child restraint system. To secure a chi ...