Checking the Battery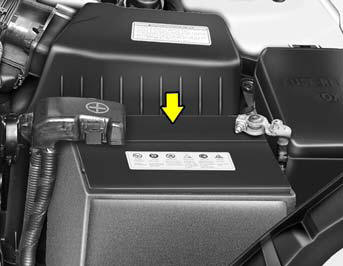 WARNING:
Batteries can be dangerous! When working with batteries, carefully observe the following precautions to avoid serious injuries.
The fluid in the battery contains a strong solution of sulfuric acid, which is poisonous and highly corrosive. Be careful not to spill it on yourself or the car. If you do spill battery fluid on yourself, immediately do the following:
o If battery fluid is on your skin, flush the affected areas with water for at least 15 minutes and then seek medical assistance.
o If battery fluid is in your eyes, rinse out your eyes with water and get medical assistance as soon as possible. While you are being driven to get medical assistance, continue to rinse your eyes by using a sponge or soft cloth saturated with water.
o If you swallow battery fluid, drink a large quantity of water or milk followed by milk of magnesia, eat a raw egg or drink vegetable oil. Get medical assistance as soon as possible.
While batteries are being charged (either by a battery charger or by the vehicle's alternator), they produce explosive gases. Always observe these warnings to prevent injuries from occurring:
o Charge batteries only in a well ventilated area.
o Do not permit flames, sparks or smoking in the area.
o Keep children away from the area.
See also:
Don't Let Your Parking Brake Freeze
Under some conditions your parking brake can freeze in the engaged position. This is most likely to happen when there is an accumulation of snow or ice around or near the rear brakes or if the bra ...
ADVANCED STANDARD SAFETY TECHNOLOGIES: PART OF HYUNDAI'S ASSURANCE COMMITMENT
Hyundai Elantra was one of the first compact sedans with ESC when it launched in July of 2007. The 2011 Elantra now takes compact car safety to the next level with the introduction of Vehicle Stabil ...
Manual climate control system
1. Front windshield defrost button 2. Rear window defroster button 3. Fan speed control knob 4. Mode indicator 5. Mode selection button 6. Air intake control button 7. Air conditioning button ...