Tire and Loading Information Label
Type A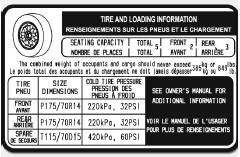 Type B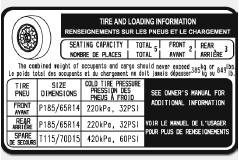 Type C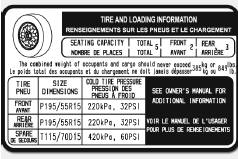 Type D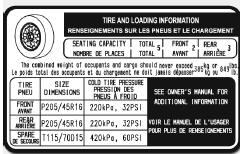 The tire label located on the driver's side of the center pillar outer panel gives the original tire size, cold tire pressures recommended for your vehicle, the number of people that can be in your vehicle and vehicle capacity weight.
Vehicle capacity weight:
849 lbs (385 kg)
Vehicle capacity weight is the maximum combined weight of occupants and cargo.
Seating capacity:
Total: 5 persons
(Front seat: 2 persons,
Rear seat: 3 persons)
Seating capacity is the maximum number of occupants including a driver, your vehicle may carry.
However the seating capacity may be reduced based upon the weight of all of the occupants, and the weight of the cargo being carried or towed. Do not overload the vehicle as there is a limit to the total weight, or load limit including occupants and cargo, the vehicle can carry.
Towing capacity:
We do not recommend using this vehicle for trailer towing.
Cargo capacity:
The cargo capacity of your vehicle will increase or decrease depending on the weight and the number of occupants.
See also:
Theft-alarm system
(If installed) This system is designed to provide protection from unauthorized entry into the car. This system is operated in three stages : the first is the "Armed" stage, the second is ...
Tire Terminology and Definitions
Air Pressure: The amount of air inside the tire pressing outward on the tire. Air pressure is expressed in pounds per square inch (psi) or kilopascal (kPa). Accessory Weight: This means the combine ...
Used Hyundai Elantra Models
Prior to the new, redesigned model, Hyundai offered the fourth-generation Elantra that ran from 2007-'10. Having established the Elantra as a legitimate contender in the compact segment with its p ...