Overdrive Switch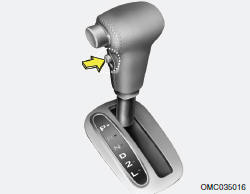 When the overdrive switch is turned on, the transaxle will automatically upshift to the second, third and overdrive gears. When the overdrive switch is turned off, the transaxle will not upshift to the overdrive gear. For normal driving, the selector lever should be left in the "D" position and the overdrive switch turned on. If you need to accelerate rapidly, press the accelerator pedal all the way to the floor. The transaxle will automatically shift to a lower gear, depending on the vehicle speed and load.
See also:
BEST-IN-CLASS FUEL ECONOMY AND POWER
Power for the Accent comes from a 1.6-liter 4-cylinder engine with direct-injection, a first for the segment. With 138 horsepower and 123 lb-ft of torque, it's significantly more than the current ...
FAMILY LIFESTAGE
In Diapers: The Latch connectors are hard to get to, which makes it difficult to install a child-safety seat. In School: Kids in booster seats have enough legroom and headroom to sit comfortably ...
Owner maintenance precautions
Improper or incomplete service may result in problems. This section gives instructions only for the maintenance items that are easy to perform. As explained earlier in this section, several proced ...