Overdrive Switch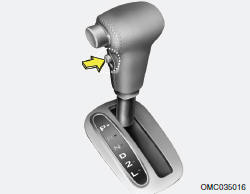 When the overdrive switch is turned on, the transaxle will automatically upshift to the second, third and overdrive gears. When the overdrive switch is turned off, the transaxle will not upshift to the overdrive gear. For normal driving, the selector lever should be left in the "D" position and the overdrive switch turned on. If you need to accelerate rapidly, press the accelerator pedal all the way to the floor. The transaxle will automatically shift to a lower gear, depending on the vehicle speed and load.
See also:
Hybrid-ness
Before I get into the performance and technology aspects of what makes the Sonata Hybrid tick, I've got to point out the fact that the Sonata Hybrid looks dramatically different from its gasoline- ...
Resetting the sunroof
Whenever the vehicle battery is disconnected or discharged, or related fuse is blown, you must reset your sunroof system as follows: 1. Turn the ignition switch to the ON position and close the sun ...
Consumer information
This consumer information has been prepared in accordance with regulations issued by the National Highway Traffic Safety Administration of the U.S. Department of Transportation. It provides the pu ...