Overdrive Switch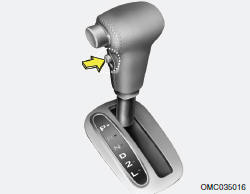 When the overdrive switch is turned on, the transaxle will automatically upshift to the second, third and overdrive gears. When the overdrive switch is turned off, the transaxle will not upshift to the overdrive gear. For normal driving, the selector lever should be left in the "D" position and the overdrive switch turned on. If you need to accelerate rapidly, press the accelerator pedal all the way to the floor. The transaxle will automatically shift to a lower gear, depending on the vehicle speed and load.
See also:
Radial-ply tires
Radial-ply tires provide improved tread life, road hazard resistance and smoother high speed ride. The radial- ply tires used on this vehicle are of belted construction, and are selected to comple ...
Illuminated engine start/stop button
Whenever the front door is opened, the engine start/stop button will illuminate for your convenience. The light will go off after about 30 seconds when the door is closed. ...
Spare Tire Pressure
2. The spare tire should only be used temporarily and should be returned to the luggage compartment as soon as the original tire can be repaired or replaced. 3. Continuous use at speeds of over 5 ...