Overdrive Switch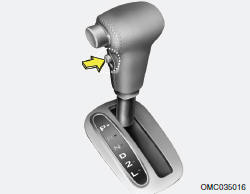 When the overdrive switch is turned on, the transaxle will automatically upshift to the second, third and overdrive gears. When the overdrive switch is turned off, the transaxle will not upshift to the overdrive gear. For normal driving, the selector lever should be left in the "D" position and the overdrive switch turned on. If you need to accelerate rapidly, press the accelerator pedal all the way to the floor. The transaxle will automatically shift to a lower gear, depending on the vehicle speed and load.
See also:
SEAT BELTS - Rear Seat Center 3- Point System With Emergency Locking Retractor
1. Before fastening the rear seat center belt, confirm the metal tab (A) and buckle (B) are latched together. 2. After confirming that (A) and (B) are latched, pull the seat belt out of the r ...
Put the Jack in Place
The base of the jack should be placed on firm, level ground. The jack should be positioned as shown in the drawing. ...
Do not use methanol
Fuels containing methanol (wood alcohol) should not be used in your vehicle. This type of fuel can reduce vehicle performance and damage components of the fuel system. ...