Overdrive Switch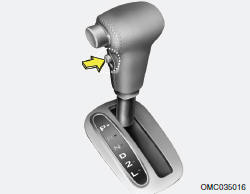 When the overdrive switch is turned on, the transaxle will automatically upshift to the second, third and overdrive gears. When the overdrive switch is turned off, the transaxle will not upshift to the overdrive gear. For normal driving, the selector lever should be left in the "D" position and the overdrive switch turned on. If you need to accelerate rapidly, press the accelerator pedal all the way to the floor. The transaxle will automatically shift to a lower gear, depending on the vehicle speed and load.
See also:
Adjusting the height up and down (If Installed)
To raise the headrest, pull it up to the desired position (1). To lower the headrest, push and hold the release button (2) on the headrest support and lower the headrest to the desired position ...
To turn cruise control off, do one of the following
o Push the CRUISE ON-OFF button (the CRUISE indicator light in the instrument cluster will go off). o Turn the ignition off. Both of these actions cancel cruise control operation. If you want to ...
What About Gasohol?
Gasohol (a mixture of 90% unleaded gasoline and 10% ethanol or grain alcohol) may be used in your Hyundai. However, if your engine develops driveability problems, the use of 100% unleaded gasoline ...