Overdrive Switch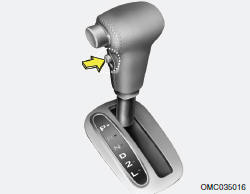 When the overdrive switch is turned on, the transaxle will automatically upshift to the second, third and overdrive gears. When the overdrive switch is turned off, the transaxle will not upshift to the overdrive gear. For normal driving, the selector lever should be left in the "D" position and the overdrive switch turned on. If you need to accelerate rapidly, press the accelerator pedal all the way to the floor. The transaxle will automatically shift to a lower gear, depending on the vehicle speed and load.
See also:
Engine Compartment
NOTE: Not all fuse panel descriptions in this manual may be applicable to your vehicle. It is accurate at the time of printing. When you inspect the fuse box on your vehicle, refer to the fus ...
Summer tires
Hyundai specifies summer tires on some models to provide superior performance on dry roads. Summer tire performance is substantrally reduced in snow and ice. Summer tires do not have the tire trac ...
Locking and Unlocking Front Doors with a Key
o The door can be locked or unlocked with a key. o Lock the door by turning the key toward the front of the vehicle and unlock it by turning the key toward the rear. NOTE: o The driver's do ...