Overdrive Switch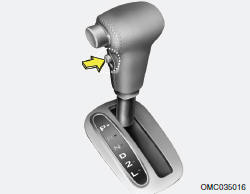 When the overdrive switch is turned on, the transaxle will automatically upshift to the second, third and overdrive gears. When the overdrive switch is turned off, the transaxle will not upshift to the overdrive gear. For normal driving, the selector lever should be left in the "D" position and the overdrive switch turned on. If you need to accelerate rapidly, press the accelerator pedal all the way to the floor. The transaxle will automatically shift to a lower gear, depending on the vehicle speed and load.
See also:
Alarm Stage
The alarm will be activated if any of the following occurs while the car is parked and the system is armed. 1) Any door, tail gate (3 Door) included, is opened without using the transmitter or th ...
Malfunction Indicator Light
This light illuminates when there is a malfunction of an exhaust gas related component and the system is not functioning properly. This light will also illuminate when the ignition key is turned ...
Windshield wiper blades
The wiper blades should be carefully inspected from time to time and cleaned to remove accumulations of road film or other debris. To clean the wiper blades and arms, use a clean sponge or cloth ...