Overdrive Switch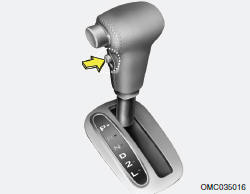 When the overdrive switch is turned on, the transaxle will automatically upshift to the second, third and overdrive gears. When the overdrive switch is turned off, the transaxle will not upshift to the overdrive gear. For normal driving, the selector lever should be left in the "D" position and the overdrive switch turned on. If you need to accelerate rapidly, press the accelerator pedal all the way to the floor. The transaxle will automatically shift to a lower gear, depending on the vehicle speed and load.
See also:
Put the Jack in Place
The base of the jack should be placed on firm, level ground. The jack should be positioned as shown in the drawing. ...
Current Hyundai Accent
The Hyundai Accent is a five-passenger compact offered in four trim levels: GL, GS, SE and GLS. The GL, GS and the SE are two-door hatchbacks, while the GLS is available only as a four-door sedan. ...
Use of E85 fuel
E85 fuel is an alternative fuel composed of 85 percent ethanol and 15 percent gasoline, and is manufactured for use in Flexible Fuel Vehicles. E85 is not compatible with your vehicle. Use of E85 m ...