Overdrive Switch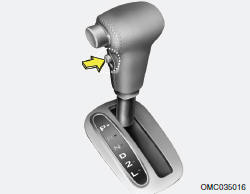 When the overdrive switch is turned on, the transaxle will automatically upshift to the second, third and overdrive gears. When the overdrive switch is turned off, the transaxle will not upshift to the overdrive gear. For normal driving, the selector lever should be left in the "D" position and the overdrive switch turned on. If you need to accelerate rapidly, press the accelerator pedal all the way to the floor. The transaxle will automatically shift to a lower gear, depending on the vehicle speed and load.
See also:
A Few Tips
o Whenever you have your Hyundai serviced, keep copies of the service records in your glove box. This will help ensure that you can document that the required procedures have been performed to kee ...
FILLING THE WASHER RESERVOIR
A good quality washer fluid should be used to fill the washer reservoir. The fluid level should be checked more frequently during inclement weather or whenever the washer system is in more frequ ...
Highway driving
Tires Adjust the tire inflation pressures to specification. Low tire inflation pressures will result in overheating and possible failure of the tires. Avoid using worn or damaged tires which may ...