Overdrive Switch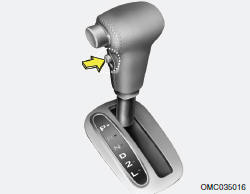 When the overdrive switch is turned on, the transaxle will automatically upshift to the second, third and overdrive gears. When the overdrive switch is turned off, the transaxle will not upshift to the overdrive gear. For normal driving, the selector lever should be left in the "D" position and the overdrive switch turned on. If you need to accelerate rapidly, press the accelerator pedal all the way to the floor. The transaxle will automatically shift to a lower gear, depending on the vehicle speed and load.
See also:
Polishing and Waxing
A good coat of wax is a barrier between your paint and contaminate. Keeping a good coat of wax on your vehicle will help protect it. Always wash and dry the car before polishing or waxing or using ...
Multi box
To open the cover, press the button and the multibox will automatically open. ...
Theft-Alarm System
This system is designed to provide protection from unauthorized entry into the car. This system is operated in three stages: the first is the "Armed" stage, the second is the "Alarm ...