Overdrive Switch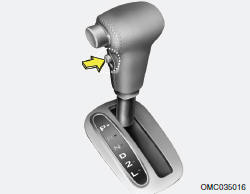 When the overdrive switch is turned on, the transaxle will automatically upshift to the second, third and overdrive gears. When the overdrive switch is turned off, the transaxle will not upshift to the overdrive gear. For normal driving, the selector lever should be left in the "D" position and the overdrive switch turned on. If you need to accelerate rapidly, press the accelerator pedal all the way to the floor. The transaxle will automatically shift to a lower gear, depending on the vehicle speed and load.
See also:
Tire Information
The tires supplied on your new Hyndai are chosen to provide the best performance for normal driving. If you ever have questions about your tire warranty and where to obtain service, see the tire m ...
Operating the automatic transaxle
The highly efficient Hyundai automatic transaxle has four forward speeds and one reverse speed. The individual speeds are selected automatically, depending on the position of the speed selector ...
2010 Hyundai Genesis Coupe review by Bill Griffith
The plan was to make a legal U-turn in front of my house. The street is so wide that I'm almost able to make the swing without backing up; unfortunately there's not quite enough room. At this pi ...