Using the Clutch
The clutch should be pressed all the way to the floor before shifting, then released slowly. Do not rest your foot on the clutch pedal while driving. This can cause unnecessary wear.
Do not partially engage the clutch to hold the car on an incline. This causes unnecessary wear. Use the parking brake to hold the car on an incline. Do not operate the clutch pedal rapidly and repeatedly.
RECOMMENDED SHIFT POINTS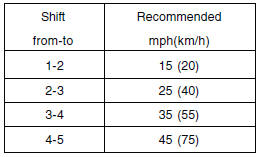 The shift points as shown above are recommended for optimum fuel economy and performance.
See also:
Spare Tire Pressure
2. The spare tire should only be used temporarily and should be returned to the luggage compartment as soon as the original tire can be repaired or replaced. 3. Continuous use at speeds of over 5 ...
Hazard warning flasher
The hazard warning flasher should be used whenever you find it necessary to stop the car in a hazardous location. When you must make such an emergency stop, always pull off the road as far as po ...
2012 Hyundai Elantra review By Steven Cole Smith
Just as Hyundai did with the new Sonata -- which matches and in many ways surpasses its top competition in the midsized category, the Honda Accord and Toyota Corolla -- the Korean company is hopin ...