Using the Clutch
The clutch should be pressed all the way to the floor before shifting, then released slowly. Do not rest your foot on the clutch pedal while driving. This can cause unnecessary wear.
Do not partially engage the clutch to hold the car on an incline. This causes unnecessary wear. Use the parking brake to hold the car on an incline. Do not operate the clutch pedal rapidly and repeatedly.
RECOMMENDED SHIFT POINTS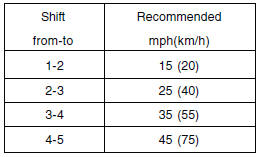 The shift points as shown above are recommended for optimum fuel economy and performance.
See also:
To turn cruise control off, do one of the following
o Push the CRUISE ON-OFF button (the CRUISE indicator light in the instrument cluster will go off). o Turn the ignition off. Both of these actions cancel cruise control operation. If you want to ...
Restrictions in handling keys
When leaving keys with parking lot and valet attendants, the following procedures will ensure that your vehicle's trunk and glove box compartment can only be opened with the master key. Lock Whe ...
FRONT SEATS. Adjusting Seat Forward and Rear- ! ward
To move the seat toward the front or rear, pull the lock release lever upward. This will release the seat on its track so you can move it forward or rearward to the desired position. When you f ...