Using the Clutch
The clutch should be pressed all the way to the floor before shifting, then released slowly. Do not rest your foot on the clutch pedal while driving. This can cause unnecessary wear.
Do not partially engage the clutch to hold the car on an incline. This causes unnecessary wear. Use the parking brake to hold the car on an incline. Do not operate the clutch pedal rapidly and repeatedly.
RECOMMENDED SHIFT POINTS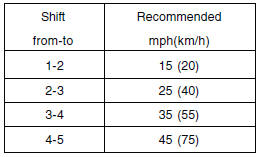 The shift points as shown above are recommended for optimum fuel economy and performance.
See also:
AWARD-WINNING TAU 4.6-LITER V8 ENGINE WITH EIGHT-SPEED AUTOMATIC
For 2012, Hyundai Genesis' award-winning Tau 4.6-liter V8 powerplant will now be coupled exclusively with an in-house-developed eight-speed automatic transmission with SHIFTRONIC, adding benefits ...
Care of discs
Proper Handling Handle your disc as shown. Do not drop the disc. Hold the disc so you will not leave fingerprints on the surface. If the surface is scratched, it may cause the pickup to skip sig ...
ESC OFF usage
When driving • ESC should be turned on for daily driving whenever possible. • To turn ESC off while driving, press the ESC OFF button while driving on a flat road surface. Never press the ESC OFF ...