Using the Clutch
The clutch should be pressed all the way to the floor before shifting, then released slowly. Do not rest your foot on the clutch pedal while driving. This can cause unnecessary wear.
Do not partially engage the clutch to hold the car on an incline. This causes unnecessary wear. Use the parking brake to hold the car on an incline. Do not operate the clutch pedal rapidly and repeatedly.
RECOMMENDED SHIFT POINTS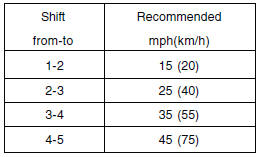 The shift points as shown above are recommended for optimum fuel economy and performance.
See also:
Keys
...
Multi-function light switch
COMBINATION TURN SIGNAL, HEADLIGHT AND HIGH-BEAM SWITCH Turn Signal Operation Pulling down on the lever causes the turn signals on the left side of the car to blink. Pushing upwards on the lever c ...
Air bag warning label (if equipped)
Air bag warning labels, some required by the U.S. National Highway Traffic Safety Administration (NHTSA), are attached to alert the driver and passengers of potential risks of the air bag syst ...