Using the Clutch
The clutch should be pressed all the way to the floor before shifting, then released slowly. Do not rest your foot on the clutch pedal while driving. This can cause unnecessary wear.
Do not partially engage the clutch to hold the car on an incline. This causes unnecessary wear. Use the parking brake to hold the car on an incline. Do not operate the clutch pedal rapidly and repeatedly.
RECOMMENDED SHIFT POINTS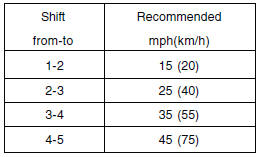 The shift points as shown above are recommended for optimum fuel economy and performance.
See also:
Resetting the sunroof
Whenever the vehicle battery is disconnected or discharged, or related fuse is blown, you must reset your sunroof system as follows: 1. Turn the ignition switch to the ON position and close the sun ...
Tire balancing
A tire that is out of balance may affect handling and tire wear. The tires on your Hyundai were balanced before the car was delivered but may need balancing again during the years you own the car. ...
Sun Shade
Your HYUNDAI is equipped with a sliding sunshade which you can manually adjust to let in light with the sunroof closed, or to block sunlight. WARNING: Never adjust the sunshade while driving. Th ...