Using the Clutch
The clutch should be pressed all the way to the floor before shifting, then released slowly. Do not rest your foot on the clutch pedal while driving. This can cause unnecessary wear.
Do not partially engage the clutch to hold the car on an incline. This causes unnecessary wear. Use the parking brake to hold the car on an incline. Do not operate the clutch pedal rapidly and repeatedly.
RECOMMENDED SHIFT POINTS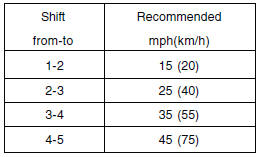 The shift points as shown above are recommended for optimum fuel economy and performance.
See also:
Checking the engine oil level
1. Be sure the vehicle is on level ground. 2. Start the engine and allow it to reach normal operating temperature. 3. Turn the engine off and wait for a few minutes (about 5 minutes) for the oil ...
Center console conpartment
Center Console Box The center console box is used for storing cassette tapes or small articles. To use the center console box, pull up the handle (1) or (2) lift the lid as shown. WARNING: To ...
If your vehicle must be towed
If your vehicle has to be towed, it should be done by your Hyundai dealer or a commercial tow truck service. This will help assure that your vehicle is not damaged in towing. Also, professionals a ...