MICRO ANTENNA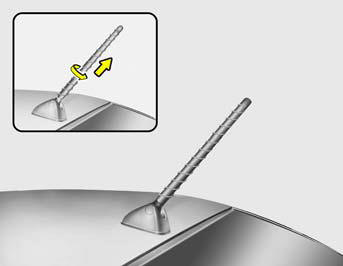 Your car uses the micro antenna to receive AM, FM and Satellite Radio broadcast signals. This antenna is removable.
CAUTION:
Before entering a place with a low height clearance or a car wash, remove the antenna by rotating it counterclockwise. If not, the antenna may be damaged.
See also:
Charging System Warning Light
The charging system warning light should come on when the ignition is turned on, then go out when the engine is running. If the light stays on while the engine is running, there is a mal ...
52,500 miles (84,000 km) or 42 months
❑ Inspect air cleaner filter ❑ Inspect vacuum hose ❑ Replace engine oil and filter (52,500 miles (84,000 km) or 84 months) ...
De-Humidified Heating
For dehumidified heating: o Turn on the fan control switch. o Push the air conditioning switch. The air conditioning indicator light should come on at the same time. o Set the air intake contro ...