MICRO ANTENNA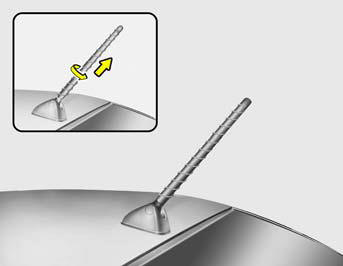 Your car uses the micro antenna to receive AM, FM and Satellite Radio broadcast signals. This antenna is removable.
CAUTION:
Before entering a place with a low height clearance or a car wash, remove the antenna by rotating it counterclockwise. If not, the antenna may be damaged.
See also:
Maintenance services
You should exercise the utmost care to prevent damage to your vehicle and injury to yourself whenever performing any maintenance or inspection procedures. Should you have any doubts concerning the ...
Checking the engine oil
Engine oil is essential to the performance and service of the engine. It is suggested that you check the oil level at least once a week in normal use and more often if you are on a trip or driving ...
Purge Control Solenoid Valve (PCSV)
The purge control solenoid valve is controlled by the Engine Control Module (ECM); when the engine coolant temperature is low during idling, the PCSV closes so that evaporated fuel is not taken in ...