CLIMATE CONTROL AIR FILTER
(For evaporator and blow unit)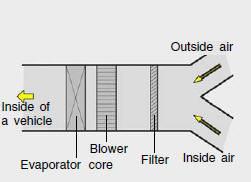 The climate control air filter is located in front of the evaporator unit behind the glove box.
It operates to decrease the amount of pollutants entering the car.
To replace the climate control air filter, refer to the page 6-16.
CAUTION:
o Replace the filter every 10,000 miles (15,000 km) or once a year. If the car is being driven in severe conditions such as dusty, rough roads, more frequent climate control air filter inspections and changes are required.
o When the air flow rate is decreased, the system should be checked at an authorized dealer.
See also:
FLUIDIC SCULPTURE DESIGN LANGUAGE
Beginning with the 2011 Sonata and 2010 Tucson projects, Hyundai designers set to work about three and half years ago on Fluidic Sculpture. Fluidic Sculpture is a consistent, cohesive design langu ...
To Clean the Vinyl Upholstery
To clean the vinyl upholstery, first remove loose dirt and dust with a vacuum cleaner. Then apply a solution of mild soap or detergent and water using a clean sponge or soft cloth. Allow this to s ...
Changing the air cleaner filter
To change the filter, unsnap the clips around the cover. When this is done, the cover can be lifted off, the old filter removed and the new filter put in its place. Genuine Hyundai Replacement P ...