Air Conditioning Operation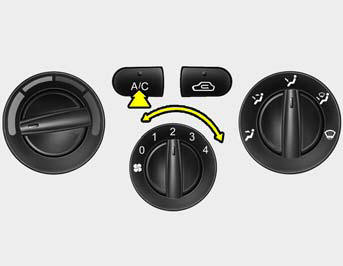 To use the air conditioning to cool the interior:
o Turn on the fan control switch.
o Turn on the air conditioning switch by pushing in on the switch.
The air conditioning indicator light should come on at the same time.
o Set the temperature control to "Cool". ("Cool" provides maximum cooling. The temperature may be moderated by moving the control toward "Warm".) o Adjust the fan control to the desired speed. For greater cooling, turn the fan control to one of the higher speeds or temporarily select the (

)
position on the air intake control.
See also:
Heating controls
For normal heating operation, set the air intake control to the fresh air () position and the air flow control to the floor () position. For faster heating, the air intake control should be ...
MAX A/C-Level (B, D)
To operate the MAX A/C, turn the temperature knob to extreme left. Air flow is directed toward the upper body and face. In this mode, the air conditioning and the recirculated air position will ...
High mounted stop light replacement
If the light is not operating, have the vehicle checked by an authorized HYUNDAI dealer. ...