PARKING BRAKE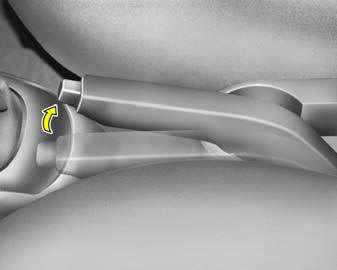 Always engage the parking brake before leaving the car. This also turns on the parking brake indicator light when the key is in the "ON" or "START" position. Before driving away, be sure that the parking brake is fully released and the indicator light is off.
Applying the parking brake
To engage the parking brake, first apply the foot brake and then without pressing the release button in, pull the parking brake lever up as far as possible. In addition it is recommended that when parking the vehicle on a gradient, the shift lever should be positioned in the appropriate low gear on manual transaxle vehicles or in the P (Park) position on automatic transaxle vehicles.
CAUTION:
Driving with the parking brake applied will cause excessive brake pad (or lining) and brake rotor wear.
Releasing the parking brake
To release the parking brake, first apply the foot brake and pull the praking brake lever slightly. Secondly, depress the release button and lower the parking brake lever while holding the button.
WARNING:
Whenever leaving vehicle or parking always set the parking brake as far as possible and fully engage the vehicle's transaxle into the park position. Vehicles not fully engaged in park with the parking brake set are at risk for moving inadvertently and injuring yourself or others.
See also:
Replacing the Wiper Blades
To replace the wiper blades, raise the wiper to the vertical. To remove the wiper blade 1. Push down the wiper blade with the locking clip (1) pressed to detach it from the wiper arm. 2. Rais ...
Seat Belt Warning Light and Chime
The driver's seat belt warning light and chime will activate to the following table when the ignition switch is in "ON" position. *1) Warning pattern repeats 11 times with an inte ...
Hyundai Elantra Review
Just call the Hyundai Elantra the comeback kid. Introduced in the early '90s, the economy-priced sedan didn't exactly get off to a good start, earning a well-deserved reputation for overall shoddi ...