MULTI BOX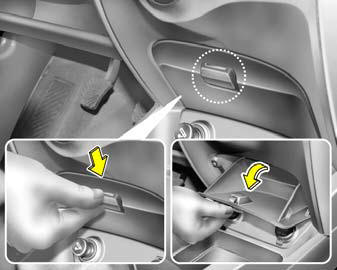 The multi box is opened by pushing the knob downward.
See also:
SRS Care
The SRS is virtually maintenance-free and so there are no parts you can safely service by yourself. If the SRS air bag warning light "" does not illuminate, when you turn the ignition on ...
Heating and ventilation
There are three controls and two switches for the heating and cooling system. They are: 1. Air flow control. 2. Fan speed control. 3. Temperature control. 4. Air intake control switch. 5. Air ...
Use of E85 fuel
E85 fuel is an alternative fuel composed of 85 percent ethanol and 15 percent gasoline, and is manufactured for use in Flexible Fuel Vehicles. E85 is not compatible with your vehicle. Use of E85 m ...